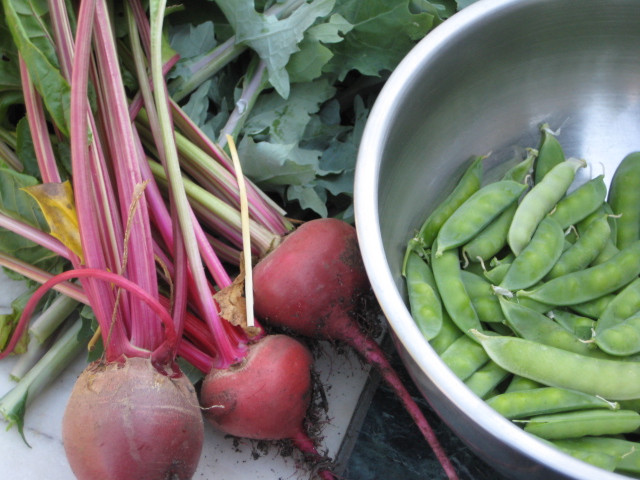 This year I have been trying to record our harvest  much more rigorously than in years past. Both to aid in my planning for next year and to get a true idea of what we can get out of our little square of earth. I toyed with the idea of creating a sidebar listing the harvest and then just decided to go ahead and join the Independence Days Challenge as it covers everything I wanted to record and then some. Hopefully, actually joining up will keep me on my toes in terms of being rigorous in recording and perhaps get a bit more done around here each week so I can meet all the categories. Here is my entry for this week.
Plant Something – Planted this week. Marigolds, Sweet William, Rudebeckia, Basil, Dill, Catnip, Shasta Daisy, and Cilantro.
Harvest Something – Kale, Arugula, Beets, Buttercrunch Lettuce, Shelling Peas, Fennel, Basil, bunching onion, spearmint, lambsquarter and oregano.
Preserve Something – 2 gallons Kale, blanched and frozen. 2 pounds Peas, most frozen some currently drying. 2 gallons arugula made into ravioli for freezer. 2 gallon s of Lambs quarter picked and washed waiting for inspiration on preservation, (we've got it coming our our ears) any ideas?
Prep Something – Pulled the last of the arugula to prepare row for Broccoli and Cauliflower starts. Pulled out Peas and cleaned bed. Bought a metric buttload of canning jars (used) off Craigslist in preparation for tomato season and pressure canning this fall. Pruned the tomato plants. Managed the aphid infestation on the nasturtiums. Every year it happens and every year I plant em again…stupid? Perhaps, but they're so purty!
Cook Something – Steak Salad with greens from the garden, Homemade pasta with fresh peas, bacon and onion, Arugula Ravioli with Ricotta and Sun Dried tomato (see previous post), Lemon Balm Queso Fresco (inspiration from Dana at Tasting Menu), Kale, Beet Green and Chard saute with Garlic and a poached egg. Sour Cream Ricotta Peach Tart with burnt Caramel.
Manage your Reserves – Took stock of the freezer (and arranged stock in the freezer). Stripped and packaged the first round of Spearmint, Oregano and Lemon Balm hung up to dry several weeks ago. Remaining from last years harvest (or farmers mkts): 1 delicata squash, 2 quart bags rhubarb, 2 gallon bags blueberries, 1 gallon raspberries, 3 half-pint and one pint jar pickled green tomatoes, 2 half-pints tomatillo salsa, 1 pint green tomato relish, 3 quarts canned whole tomatoes and 1 pint sun dried tomatoes.
Work on Local Food Systems – Bought Dill, Cherries and New Potatos from the Renton Farmers Market. Did further research on another source for grassfed lamb this year. We just got word from last years source that they will not be selling any meat this year. Anyone have a good source for Lamb or pork in Western WA? We prefer to buy straight from the farm, a whole lamb or probably 1/4 pork. Looked (again) for a reasonable source for raw milk – no luck.