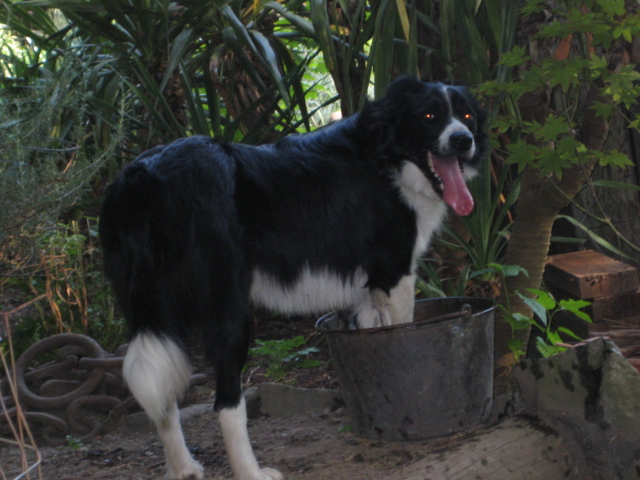 Do you remember the heat? We didn't have a lot of it this year, but we had some pretty hot days. I mentioned a while ago that we headed down to my friends land towards the end of August. It turned out to be one of the hottest days this year. That morning right before we headed out was when I discovered that someone had crashed into my parked car and royally screwed it up. I was in a pretty foul mood that day but we packed up anyway for the 2 hour drive south. We arrived around 2 pm (after much traffic and back tracking, I'll save that story for another day), and the sun was in full force. Wisely I asked Gary to stop at the general store in town and picked up some beer before heading out to the farm.
What resulted was one of the most pleasant days I had this summer. Did anything get done? Absolutely not. As soon as we got there we all found our respective spots, I parked my butt and cracked a beer. My guess is it got into the upper 90's with plenty of humidity, mosquitoes and sweat. But it was wonderful, just sitting, catching up and talking, occasionally taking a stroll around the gardens and visiting the critters. The leading picture above is of the newest addition to the farm, Liam. He was pretty hot too and every once in a while he would return to our outside seating area to cool off his two front feet in a bucket of water, then he would run off to rigorously monitor the other animals, he is the epitome of a border collie.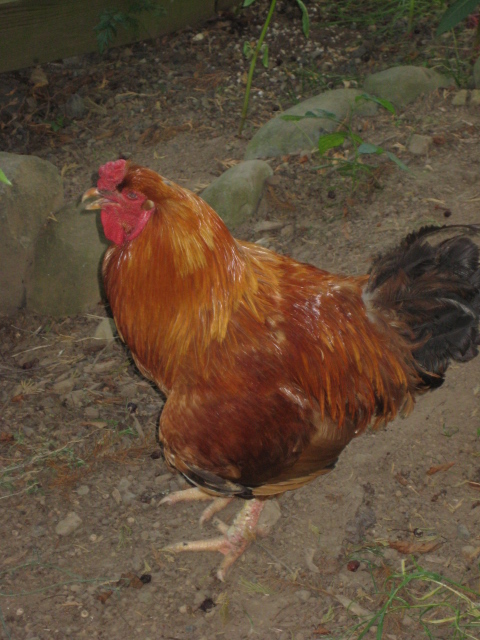 This is Red, by far the oldest rooster I have ever known. Red is one of the first additions to the farm, I think he is 7 or 8 years old now. Somehow it is fitting that the only real pictures I took while we were down there are of the newest and oldest. I had intended to take many more, but it was hot and the beer was cold and my motivation for the day seemed to have been torn off along with my sideview mirror. Red is the bonafide yard bird of my friends place. The chicken, geese and ducks all have their own fenced enclosures but Red has free range over the entirety of her land. He hangs with the dogs and monitors the hens most of the time.
More and more I dream about having my own little bit of land. I am so impressed by what my friend has done with her land. Over the years I have had the opportunity to see it go from a raw bit of pasture and woods to well developed perennial beds, a small orchard and plenty of other critters. With all that is happening in this country at the moment I feel an increasing sense of urgency to check out. We do a lot on this little city lot, trying to grow a good portion of our own food and responsibly tend to our little patch of earth, but the size limits our independence. I dream about finally getting the mortgage paid off and getting down to the bare minimum of external work for money to keep us fed and watered. It still seems a long way off, and I am a bit short on patience lately.
The economic and political state of affairs has done little to redeem my faith in this country and its citizens. I know there are thoughtful folks out there, it just appears they are completely in the minority. After 8 years of a idiotic Texas frat boy in the office we are now facing the very real possibility that an aspiring Miss America will be a heartbeat away from the presidency. This terrifies me, and if it happens – if they win the popular vote, I believe this country will get exactly what it deserves. I just feel bad for the rest of the world that has to survive our blunders. I'm no fan of politics or politicians in general, democrat or republican. At base I believe the system is corrupt. But this is big stuff, and if over 500 billion dollars in costs for 6 years of war, a failing economic system and rising unemployment doesn't stir the people of this country to demand a change from the status quo from both parties – once again, we deserve everything we get.