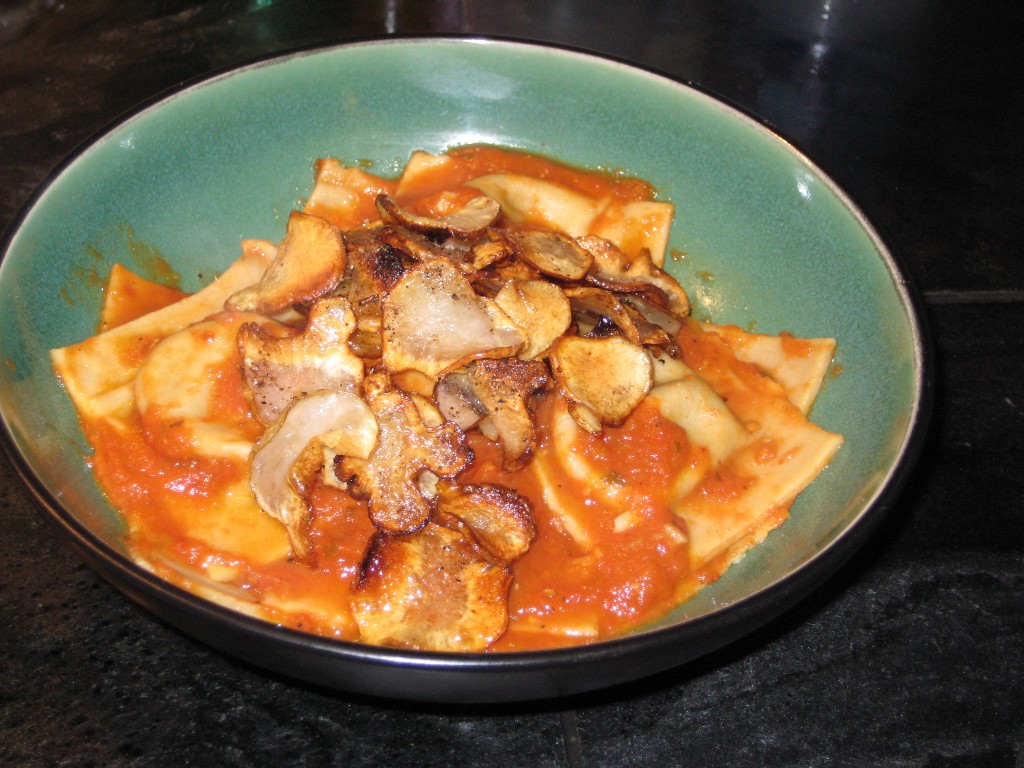 Whole Wheat Smoked Eggplant Ravioli with Crispy Jerusalem Artichokes

Apologies in advance for the horrible, overexposed picture. We haven't quite worked out sufficient lighting in the kitchen yet. But truth be told, this meal just ain't that pretty even in the best of light. But what it lacks in appearance, it makes up for in flavor.
Earlier in the year we borrowed a friends smoker while he was away fishing. I picked up several eggplants from the local farmers market and smoked them for a few hours. I pureed the eggplant, used half to make a big batch of baba ganouj (promptly frozen),  and used the other half to make up some ravioli. At that time we were rolling in the eggs from the girls and I was trying to preserve as much as possible in the form of pasta or ice cream. I made some ricotta with milk from a local dairy and combined the pureed eggplant with the ricotta, seasoned with salt, pepper and smoked paprika and sauteed leeks.
The ravioli was made with eggs from the girls and flour from Wheat Montana. Montana wheat isn't exactly local, but we picked up two 50 lb sacks while we were out in Montana earlier this year – so I am going to count it, as it was local when we bought it and no excess miles were traveled to get it from there to here. Besides, it is a really cool thing to see a family of wheat farmers still farming after 3 generations, and they've established retail outlets attached to their mills, not only selling raw wheat and flour but any number of breads and treats from their product.
I made a simple sauce for the ravioli from a quart of canned tomato sauce, a bit of smoked paprika, oregano dried from the garden this summer and garlic from the West Seattle Farmers market. I sliced a few jerusalem artichokes (aka sunchokes) very thin and sauteed in olive oil until crisp.  A whole wheat buttermilk roll to sop up the sauce and push things around rounded it out.
From our home/garden: Eggs, leek,  tomatoes, oregano.
From local farms: Eggplant, milk,  wheat, jerusalem artichokes, garlic. Sources: Greenfresh Market, West Seattle Farmers Market, Renton Farmers Market.
Not Local: Salt, pepper, smoked paprika, olive oil.