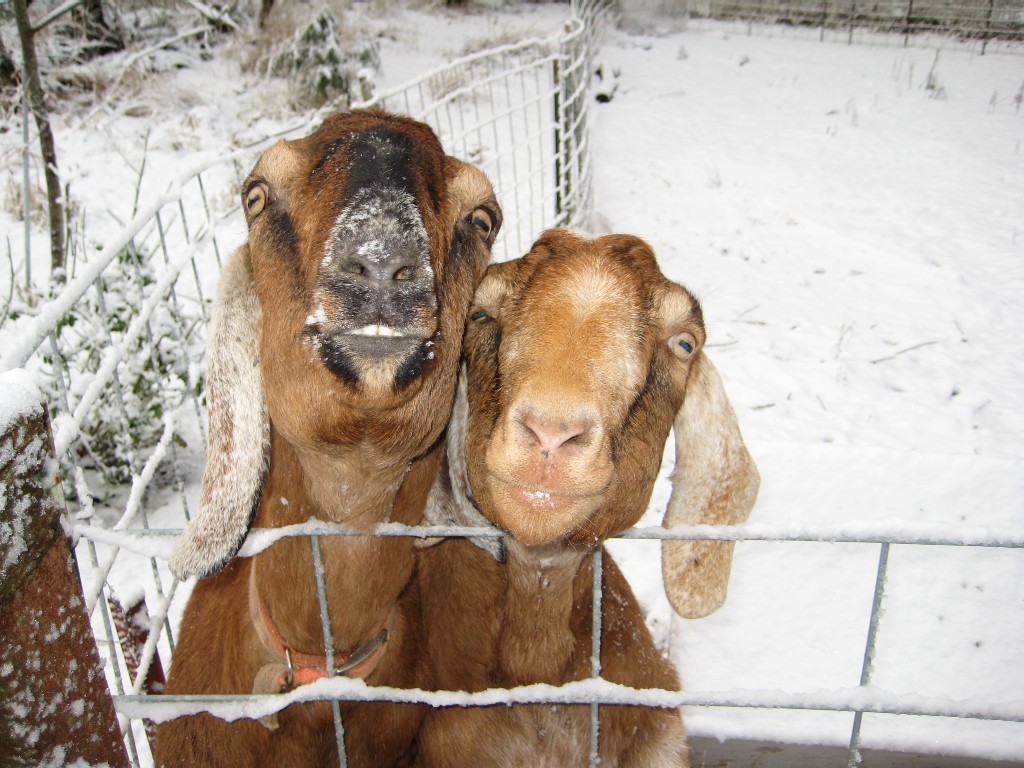 How could you turn away from those faces just wanting a scruff?
I mentioned in a previous post that we headed down south to farmsit for the weekend for a friend who is currently in Kenya. A stormfront blew in on Friday night and rewarded us with increasing snow flurries on our way down. We took the backroads that circle near Mt. Rainier and it was actually a pleasant drive. Not so much snow to make the driving treacherous but enough to make everything very picturesque.
We stopped to look at an old homestead on 5.33 acres in a nearby town as well. The snow was deep there and as we tramped around the property peeking in windows and peering into the barn, Hux bounded around chest deep in the fluffy stuff. He was a very happy dog. The property was pretty neat too, a great old barn in good shape. a number of other outbuildings and some pasture with plenty of space for a large garden. The home needs some serious work to be habitable but it is a nice little spot complete with a little train running through the valley. It's whistle reverberated off the hills as we were looking around and made it all feel very Little House on the Prairie-ish. So – if anyone has a spare 100K burning a hole in their pockets, I promise I'll put it to good use!
After stopping at the grocery store we got down to the farm and immediately set about getting a fire going – a task which Gary diligently kept at until the cabin was about 100 degrees (the boy runs either hot or cold, no in between). I went  to do the evening feeding of the critters and break up the ice in their waterers. We were greeted at the gate by Liam, the newest addition to the farm. You'll see him here in a picture from this summer, cooling his heels in a bucket of water in close to 100 degree weather. He wasn't so hot in this picture – but look at that tongue!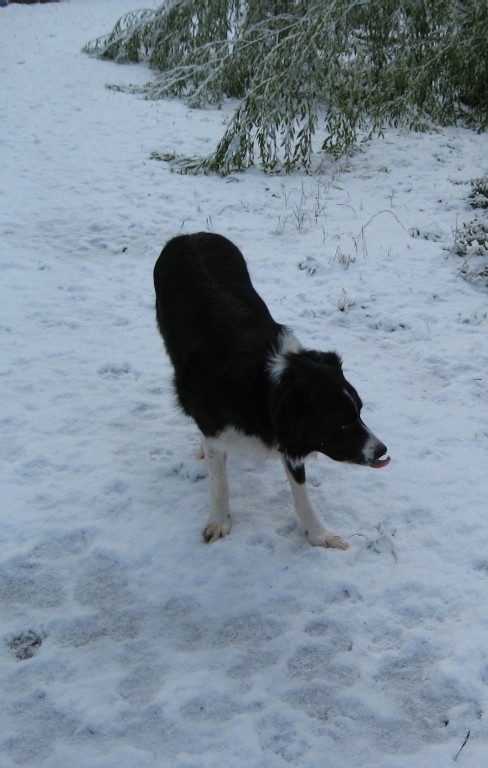 Molly, the oldest resident on the farm was ever watchful. She has calmed down a bit in her old age though, lost a bit of that manic-obsessive border collie drive.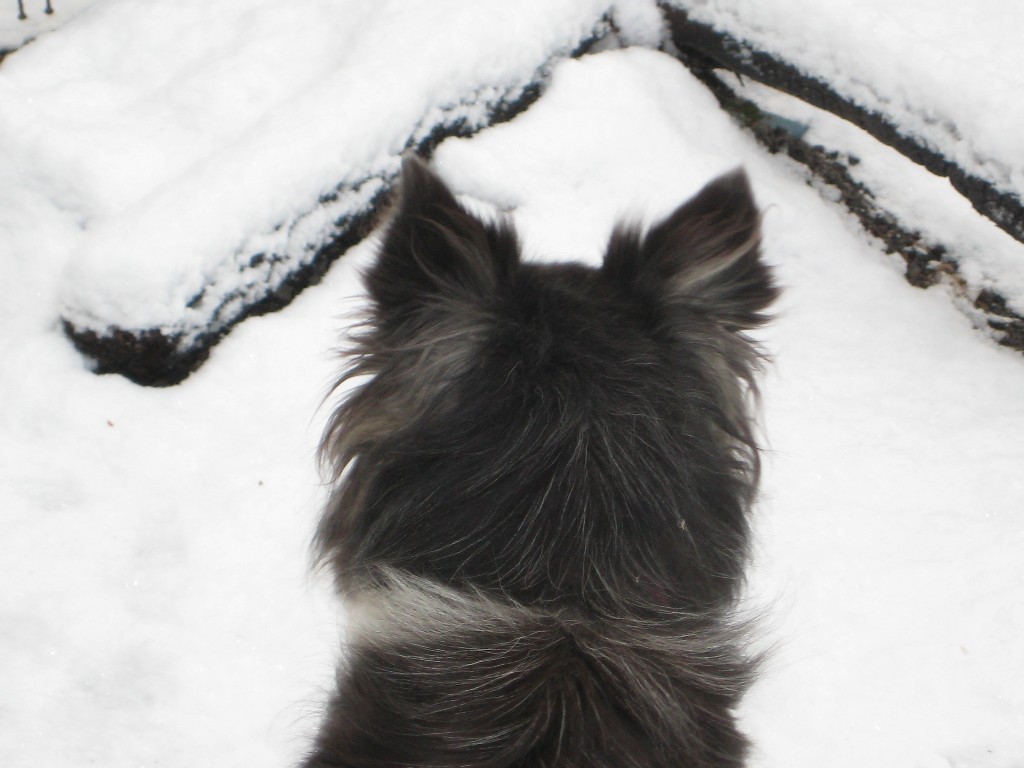 The geese started honking the minute they saw me and didn't let up until some cob was dropped at their feet. Sociable, demanding and bossy creatures they are (and I never forget that they could probably break an arm with the flap of a wing). Ain't nothing quite like a goose hiss.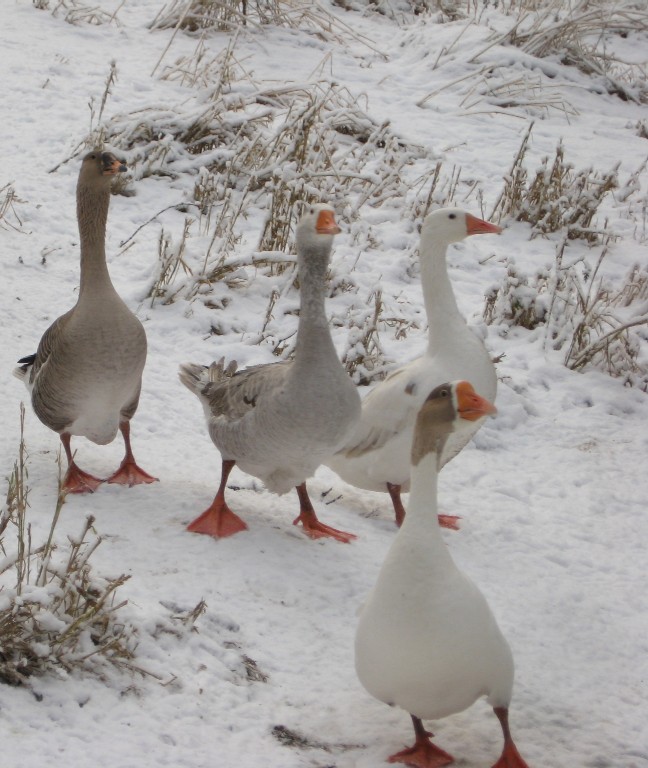 The poor ducks just try to stay out of their way and follow you around hoping there is a bit of food left for them.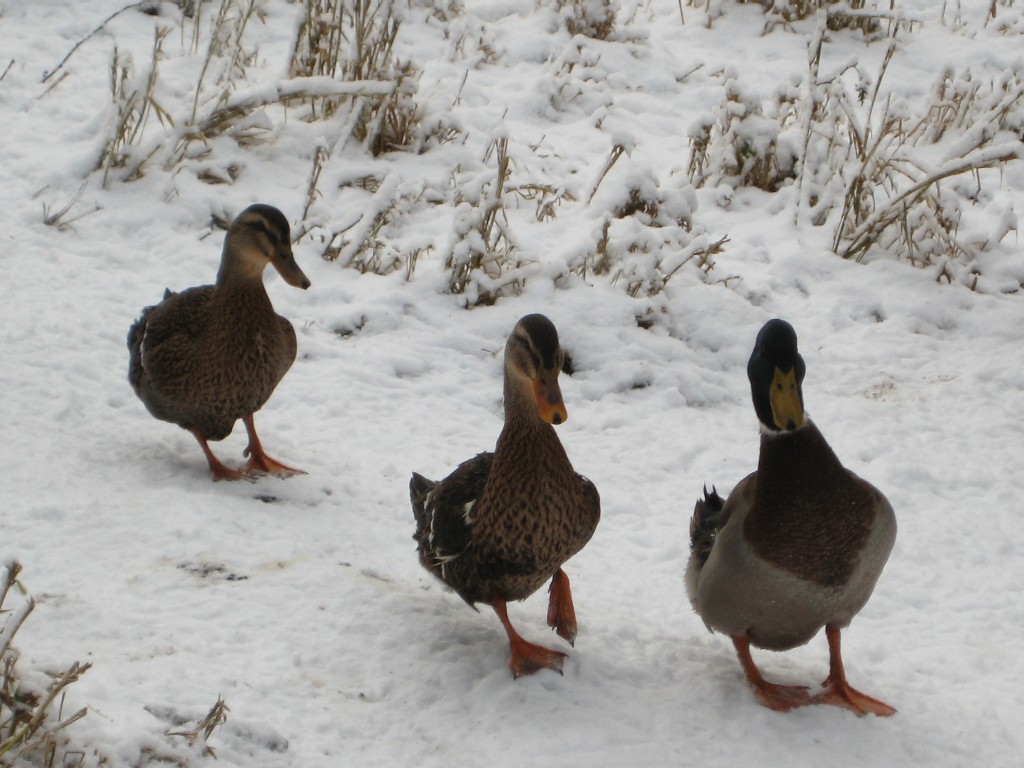 It was chilly out the whole time we were there and aside from tromping about a bit we holed up inside for the most part. Got Liam dried up a bit before he went tearing off into the snow again to make sure the goats weren't misbehaving (that dog takes his job very seriously).
We returned to Seattle in still freezing temperatures. Not a lot of snowfall while we were gone, but it is still very cold and expected to stay that way for a while. More snow is predicted for Wednesday. The freezing temperatures have just about done in what remains in the garden. I don't know if the cauliflower, broccoli, parsley and leeks will rebound – they are looking pretty beat down at the moment. If it is going to be this cold I would rather have some real snow to make it fun – but that is rare around here.