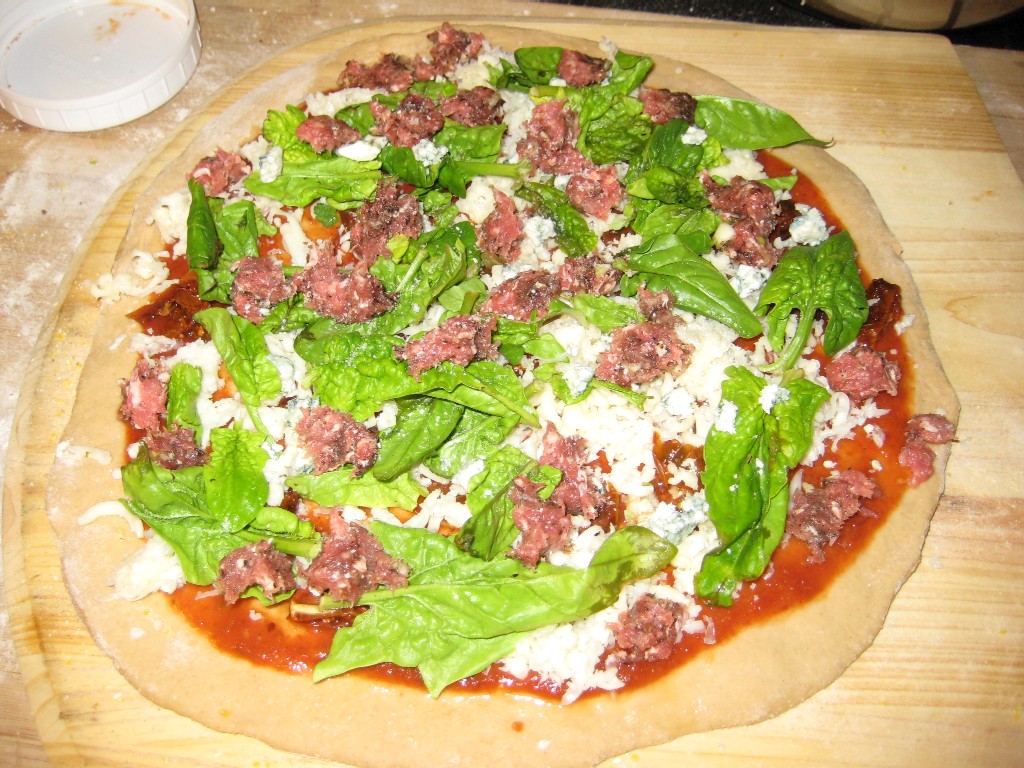 I've been searching around lately for a 100% whole wheat pizza dough recipe. Most recipes that purport to be whole wheat dough are in actuality somewhere between 30-50% whole wheat with the remainder being either bread flour or all purpose. Now I'm not going to claim that I don't like white pizza dough – but in the interests of using whole foods and better nutrition (and the 50 lb sack of whole wheat flour staring at me from a corner of my office) I really wanted to find a workable whole wheat version.
I found what I was looking for on The Nourishing Gourmet. I'm not a complete Sally Fallon convert and don't exactly follow all of her guidance on never ingesting unsoaked wheat, nuts or seeds, but I do find a lot of useful and intriguing information in Nourishing Traditions -particularly the fermentation recipes. This dough recipe went the full 9 yards in terms of calling for an overnight soaking/fermenting of the wheat flour beforehand. I thought what the hell and went with it, using a few tablespoons of yoghurt to get it started since I didn't have any whey defrosted (and I wasn't about to defrost a gallon jug of when for two tablespoons).
The dough came together quite easily the next day and was a very pliable pizza dough. For toppings I used a tablespoon or so of roasted tomato paste and fleshed it out with some tomato sauce (both canned from our garden this summer). Mozzarella and a bit of blue cheese, minced garlic, fennel seasoned ground beef and baby spinach topped it off. The crust was most definitely wheaty – not at all reminiscent of the simple starchy 00 flour pizzas of Naples, but it wasn't bad. More a flavor to get used to than anything else. And when you top things with cheese and goodies, who can complain?
Local Ingredients – Whole Wheat Flour, beef, fennel, tomato paste, tomato sauce, spinach, garlic.
Non-local Ingredients – mozzarella (didn't make my own this time), Blue cheese.