Or…maybe it can. How do I tell this little chicken there isn't a chance in hell that her eggs will hatch?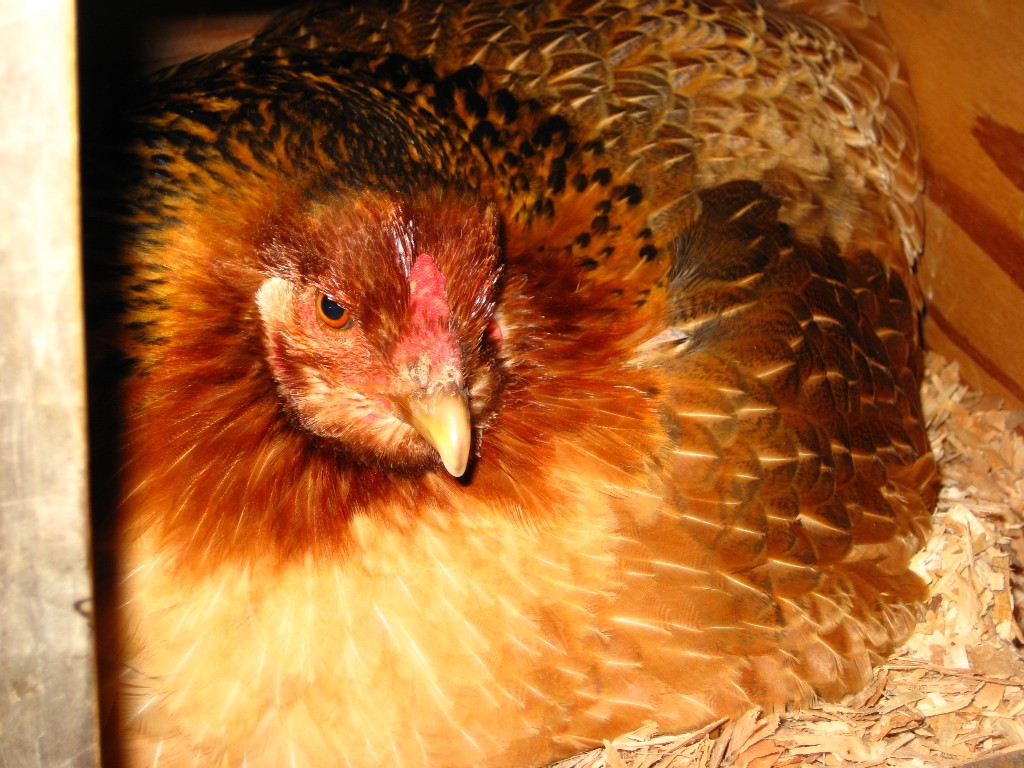 Dahl has been sitting for over a week now. At first (once again for those loyal readers who have followed the saga of Dahl since last spring) we thought she might be eggbound. She hadn't laid for several days and was wandering around being even more bullyish than she usually is. Letting out these godawful screeches whenever she went into a nesting box…but no egg. Then, I finally found an egg under her and decided to let her have it if she wanted to set. But apparently the fact that I had seen/touched it made it unworthy – so she destroyed her own egg that same day.
That was Tuesday or Wednesday of last week. For several more days she sat, day and night in the nesting box with no egg. The other two girls laid a few eggs yesterday and Dahl promptly hopped up and switched boxes to sit on their eggs. Gary got those this morning and Dahl is back to sitting in her old box, who knows if she layed or not. The protective motherly screeches anytime we or the chickens come within 5 feet of her nest is killing our curiousity.
I'm not opposed to having a broody hen. In fact, I am kind of pleased to see that she still has that tendency (most chickens having had good motherhood almost totally bred out of them for factory farming). But none of these girls have had the romantic attention of a rooster since last April or so. It seems so sad for her to be putting all this effort in on a zero sum game. Perhaps next year we will get a few fertilized eggs to hatch out. But until then – she will have to get a clue at some point, right?
*Shameless takeoff on The Clash's "Rudie can't fail", but I've been humming it since I realized she was broody. Be glad I work from home, eh?