We don't ever celebrate Valentines day around here. In fact, to be honest we are hard pressed to celebrate many holidays. If it weren't for family events around Christmas and Thanksgiving we might just forget about it all. Birthdays usually warrant a cake and having friends/family over – but that is the height of our observances. Valentines day in particular strikes both of us as such a commercialized Hallmark holiday that it always passes unnoticed in this house. Our obliviousness is how we managed to schedule the great fungus experiment of 2009 on February 14th.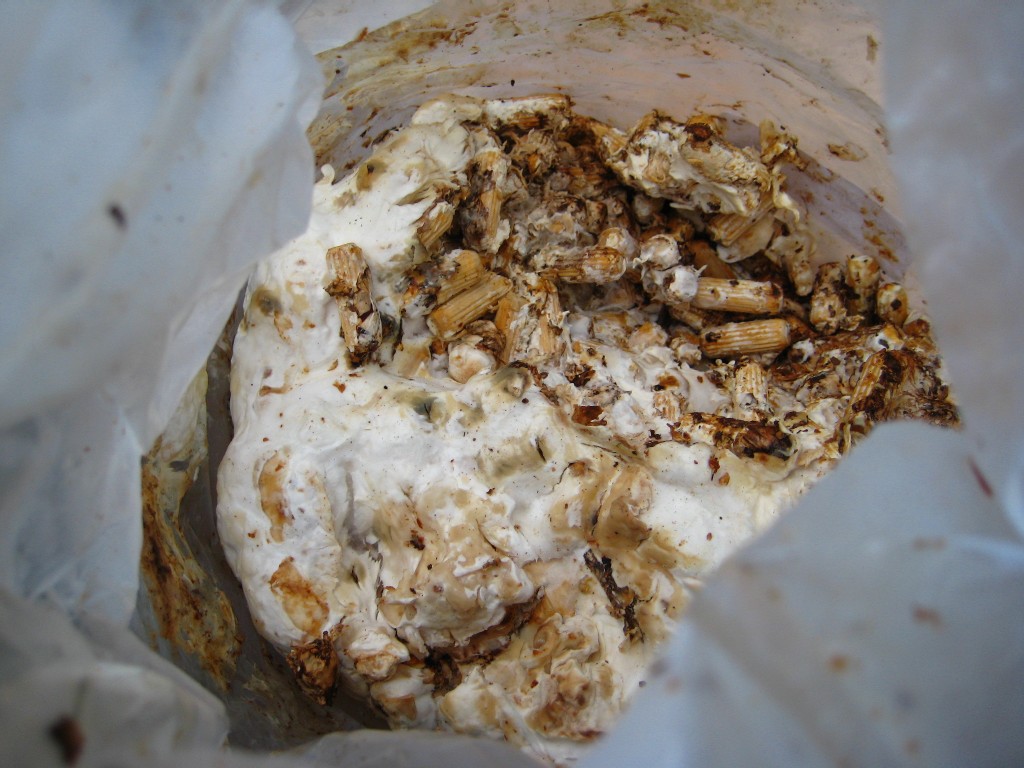 This is a bag of shiitake plug spawn. 1000 plugs to be exact. When I last visited my friend down in Mossyrock in January we stayed up late talking seeds, gardening, critters and grand agricultural experiments. We hatched a plan to go in on the spawn and other assorted supplies for growing shiitake musrooms. The snowstorms of December and early January had left her with massive numbers of downed trees, a good portion of which were alder (one of the preferred hardwoods for growing mushrooms).
I trundled back to the city and ordered the plug spawn and she set about choosing the choicest fresh logs for our experiment. Knowledgeable sources say that a log should be inoculated with mycelium within 4-6 weeks of being cut, while the moisture content is still high in the wood. So we scheduled this past weekend as our day of labor. In the interim, she wire brushed each log to remove moss and other detritus. Saturday morning we hauled the logs onto a table (pickup truck bed) and got to work after cranking up the generator for the power drills – cordless drills just don't cut it when you have to drill one thousand holes.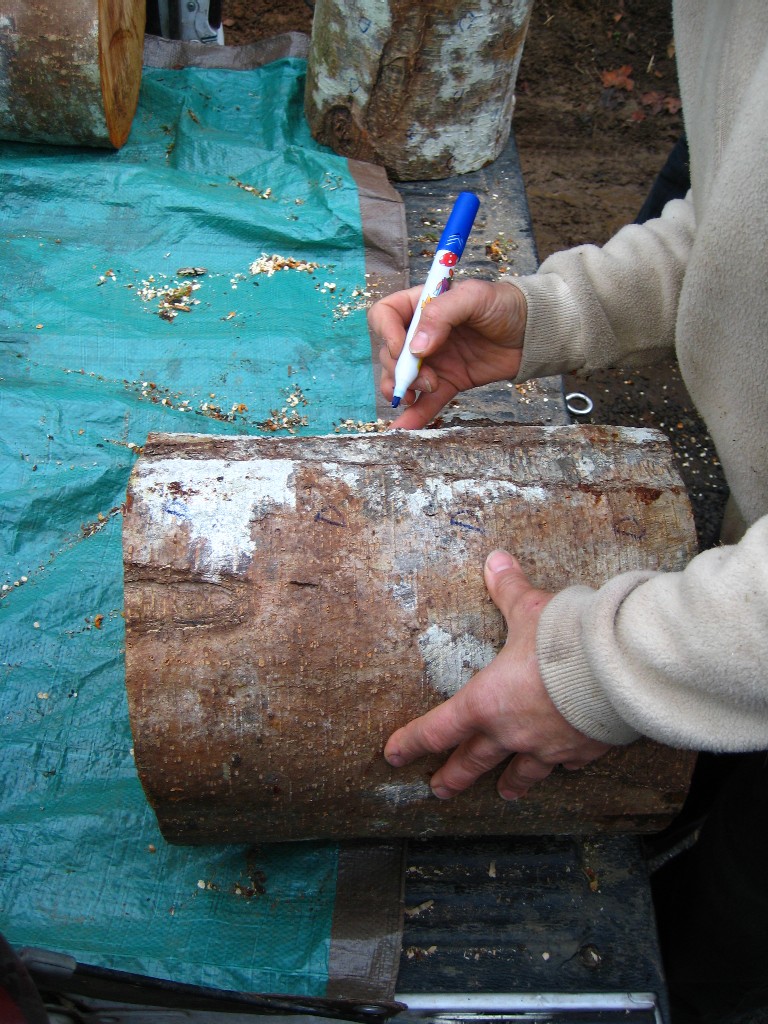 Not just a goat/goose/chicken/duck/cat/dog wrangler and grower of things, but also an artist- she freehand marked each log with drill spots in a diamond pattern for those of us less spatially/artistically gifted as we drilled out each marked hole.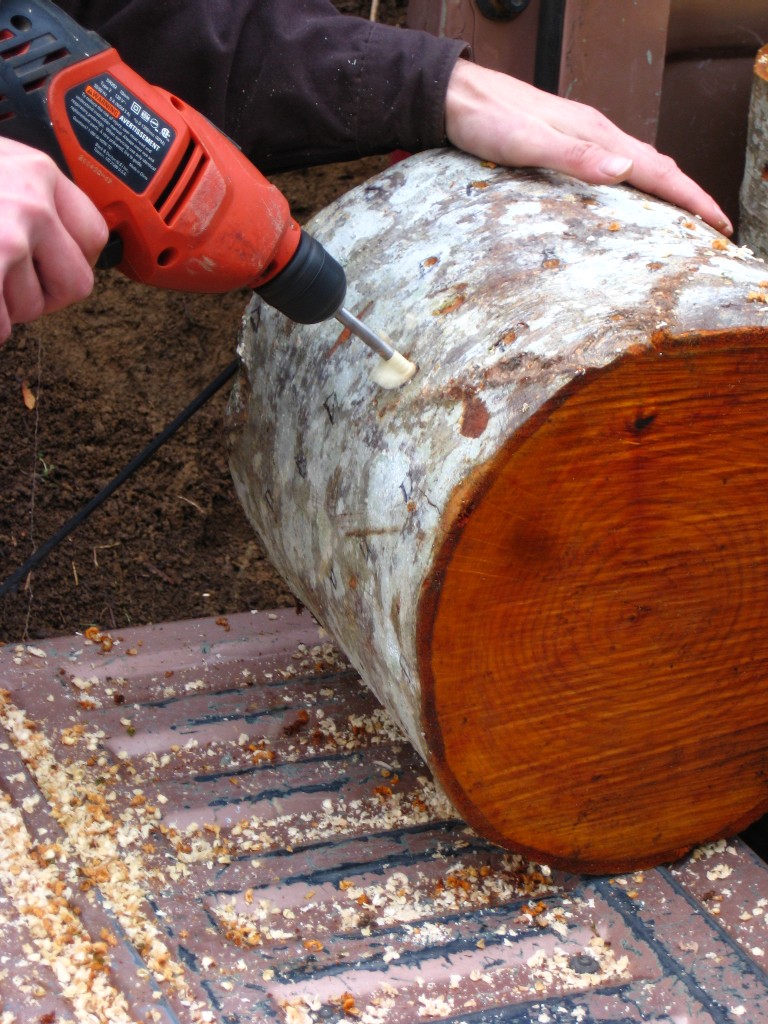 The holes should be in a diamond pattern, 6-8 inches away from one another.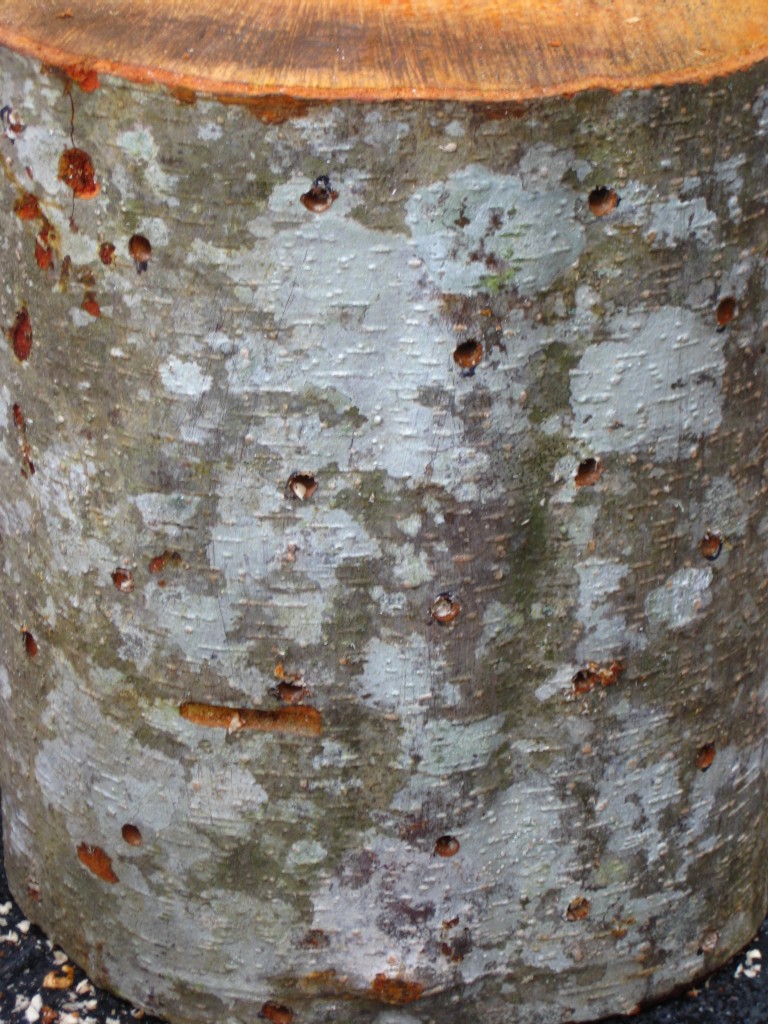 Once a log was fully drilled we inserted a plug into each hole, and tapped it down until it was flush with the bark.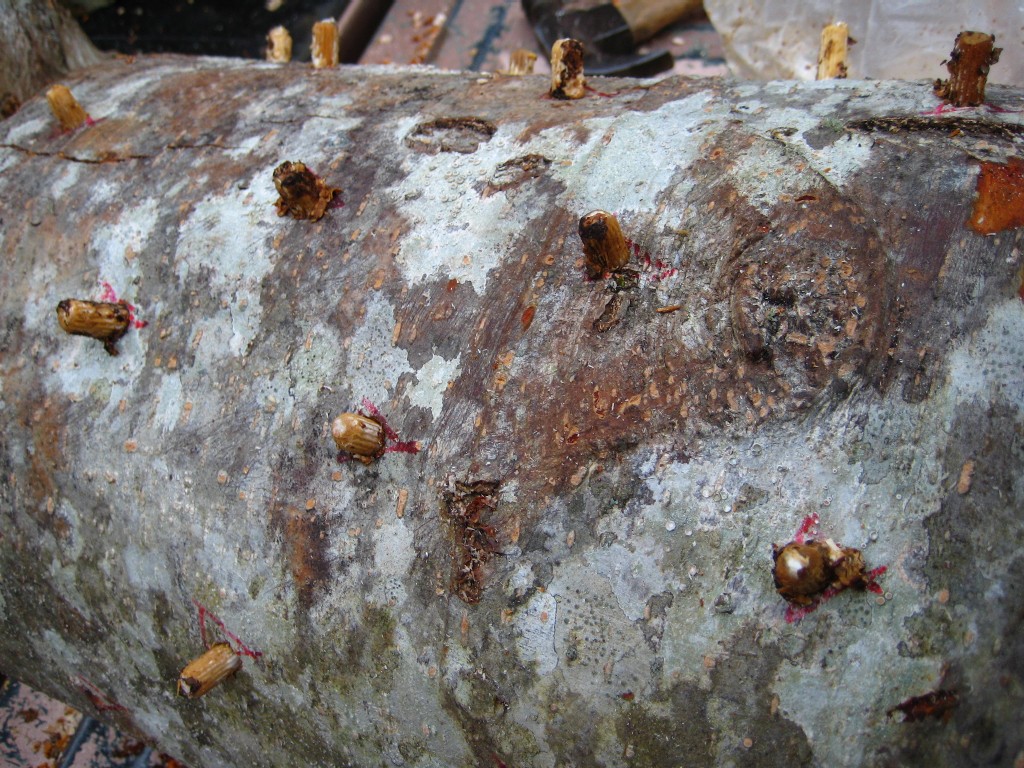 Liam supervised Gary to make sure he was doing it right.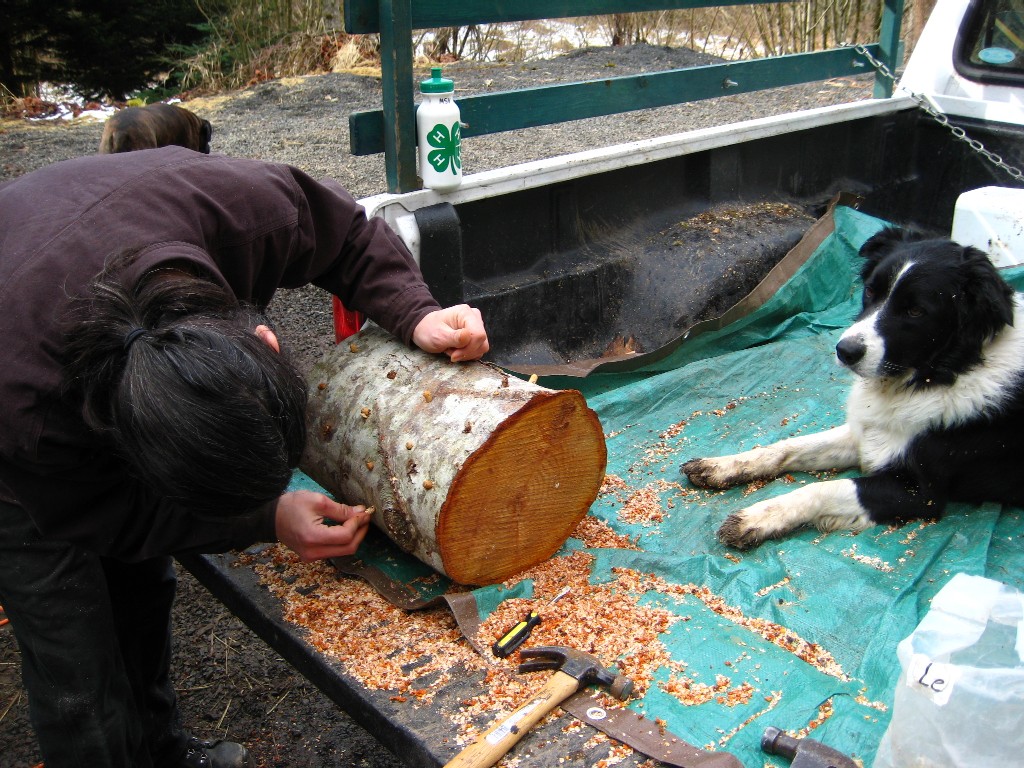 Molly couldn't figure out why were were so interested in the big sticks and wouldn't throw hers. (If that isn't the saddest face in the whole world…)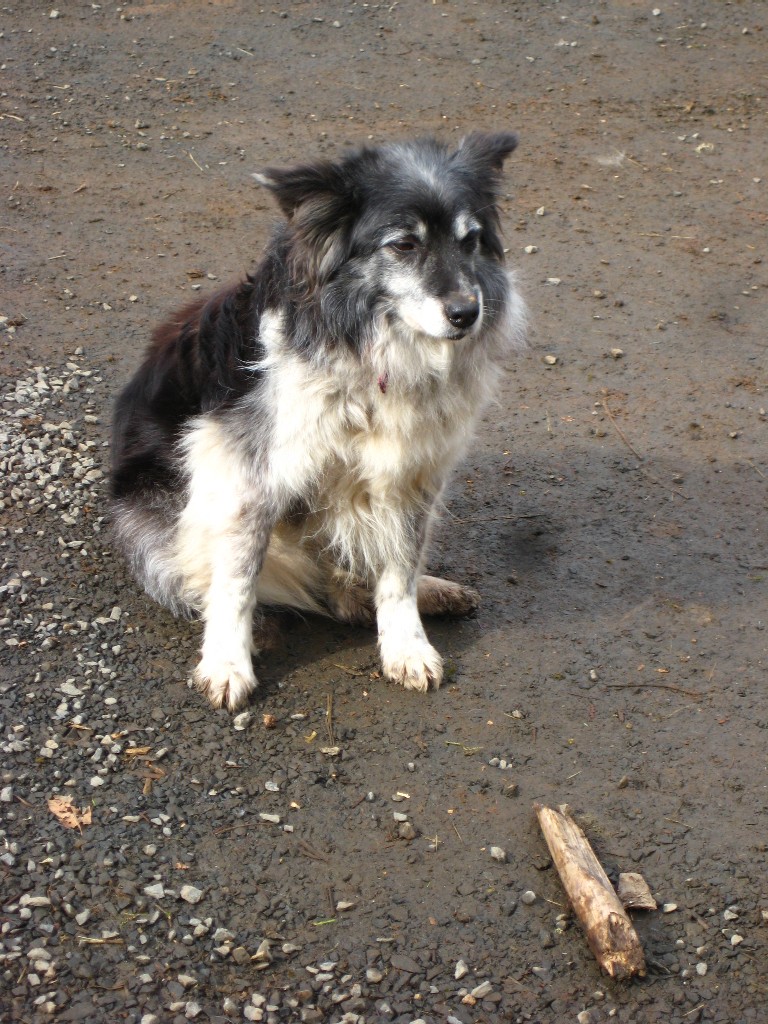 Once the a log was fully plugged, the plugs were sealed off with melted cheese wax – applied with a foam brush.
And that was it! We hauled the 17 logs down to a pallet set up under the some fir. They will be occasionally doused with water to maintain the moisture and now we wait and see. It could be 6 months to a year for the first flush of mushrooms. Each log should give a minimum of 4 flushes before it is exhausted. We took two logs home with us and set them in a shady, moist spot on the side of the house. It will be interesting to see what effect the different climates have on the maturation of the logs.
The whole thing cost somewhere around $99 in supplies, $81 for the plug spawn and cheese wax and another $18 for the foam brushes and extra drill bits.