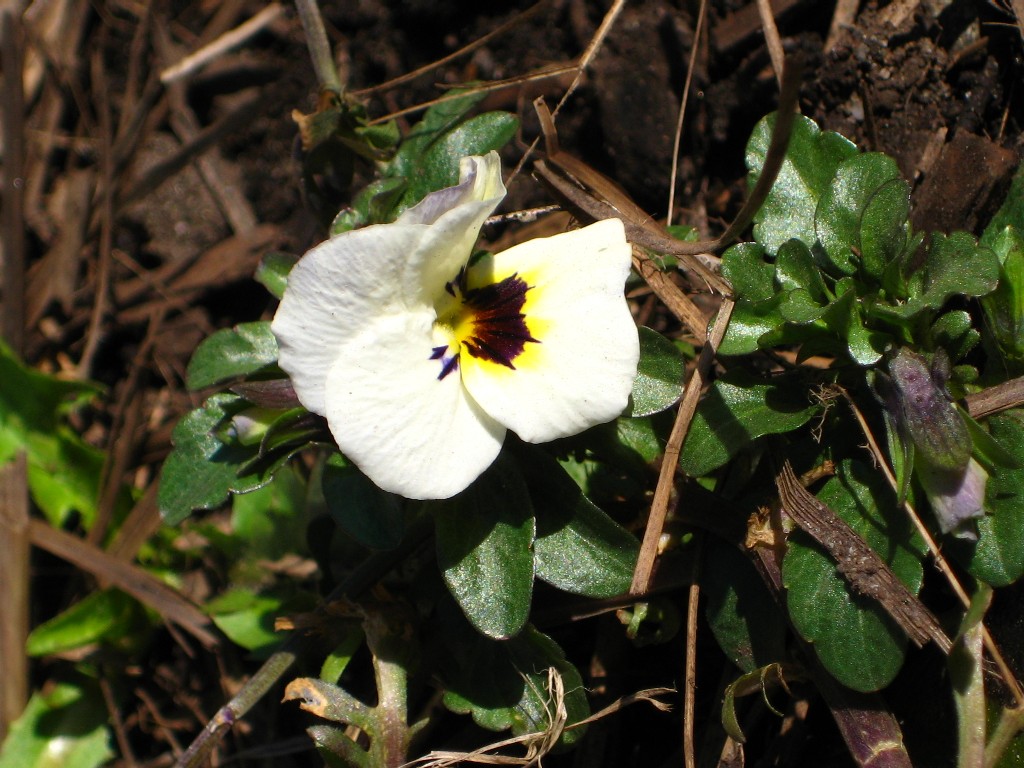 We've had a spate of sunny days this week and they are beginning to show their effect in the garden. I've got several volunteer and overwintered violas popping up in the main bed, flashing their colors underneath the straw mulch we left on the bed for the winter.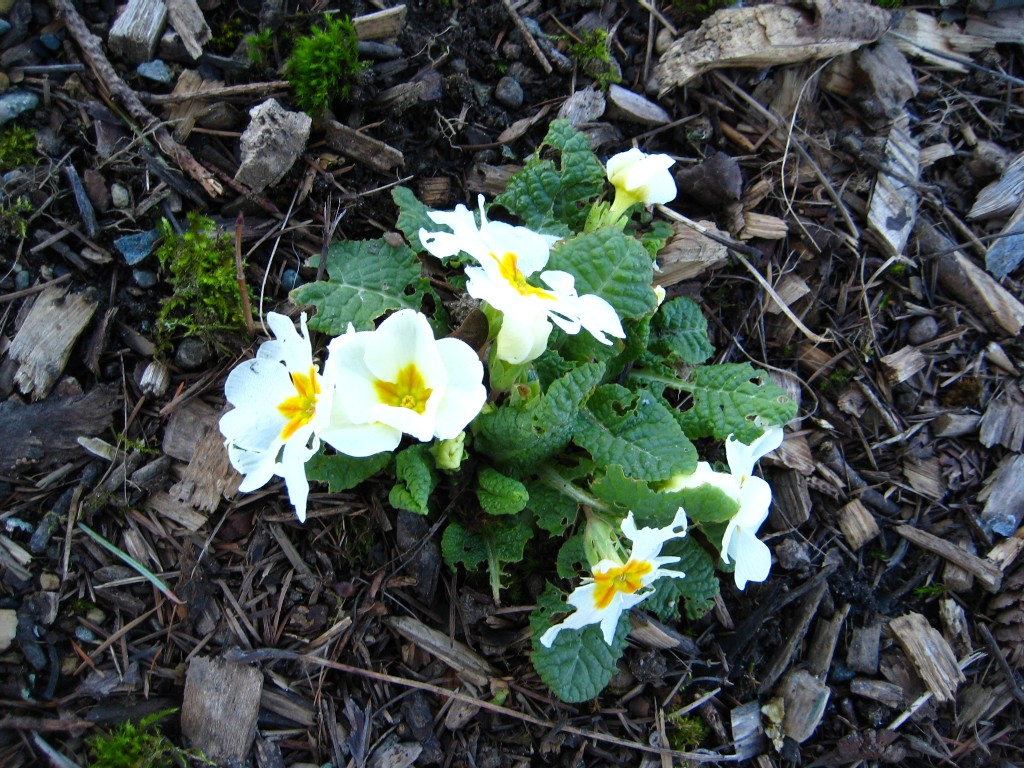 Out front, the first primrose peeked out this week too. Something out there really likes to munch the leaves and flowers, but the plants always survive and give the first bit of spring.
I direct seeded a portion of the other cold frame this week with Beets and Cilantro. I ran a full surround of peas along the outer border of the same bed (picture at the bottom of this post). I hope to utilize the existing hoop house structure that sits over the top of it to string up the peas for a spring harvest. Gotta figure out a plan for that.
I also started several lines of peas in gutter cut-offs. I can't recall where I first heard of the idea, but last year I read something about starting peas/beans early by taking a cut section of gutter (the aluminum or plastic variety) filling it with soil and seeding. You can then place the movable sections of gutter in a cold frame/greenhouse and get a bit of a jump on the season. For peas, I see the benefit being a more rapid germination – they are pretty cold hardy, so once they sprout and get their first few true leaves they will be fine. It also works for us as we have not yet completed the addition of the other garden bed, so we are starting the peas and buying ourselves a bit of time to boot.
My experience with pole beans is that they will germinate and grow to about an inch or two, but then will not do anything until the daytime temperatures are close to 75 or 80 degrees. Using the gutter to start the beans will be especially useful for us since we try to pack as much growing as possible into the small garden space. This way I can plant a spring crop of cold hardy greens or radish in the location where the beans will ultimately go this summer, and not worry about the beans being planted too late for a good harvest. When the time comes you just dig a shallow trench the depth of the gutter and pushing from one side, slide the whole column out to it's final resting place. I will post an update on how it works.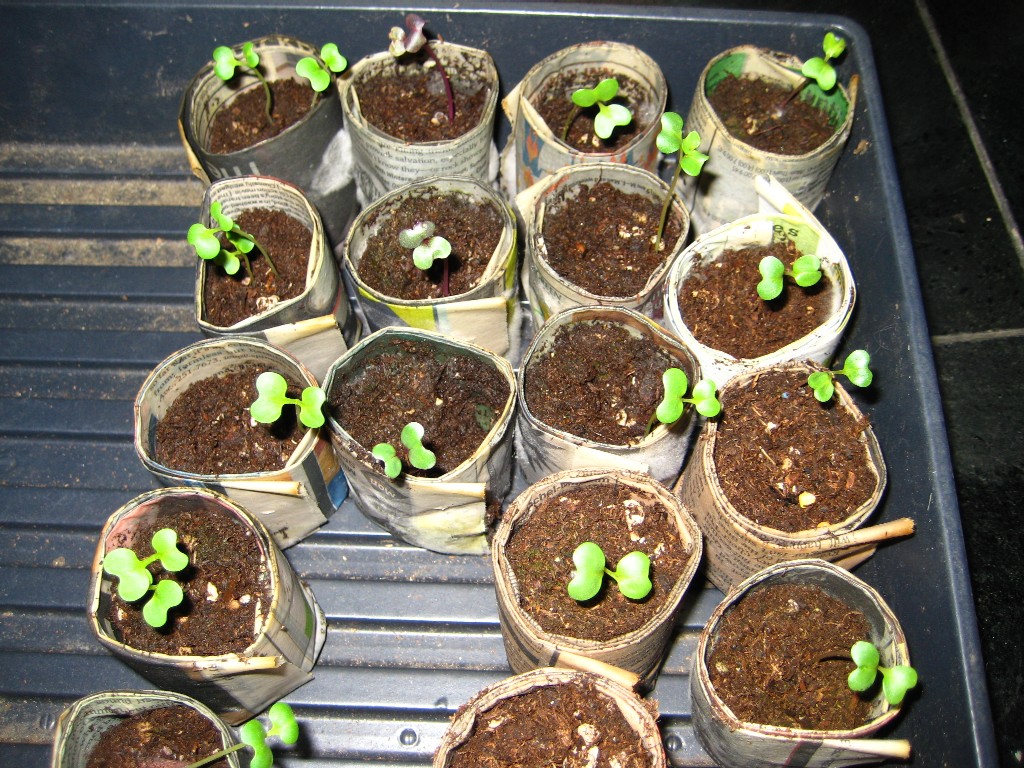 The seeds I started in newspaper pots are taking off. I only have one garden window that I use for seed starting. No heat mats or artificial lights. It has worked out pretty well so far. I started all of our tomatoes in this way last year and didn't have any issues. The picture above I took a few weeks ago. Below is the current state of growth as of this morning.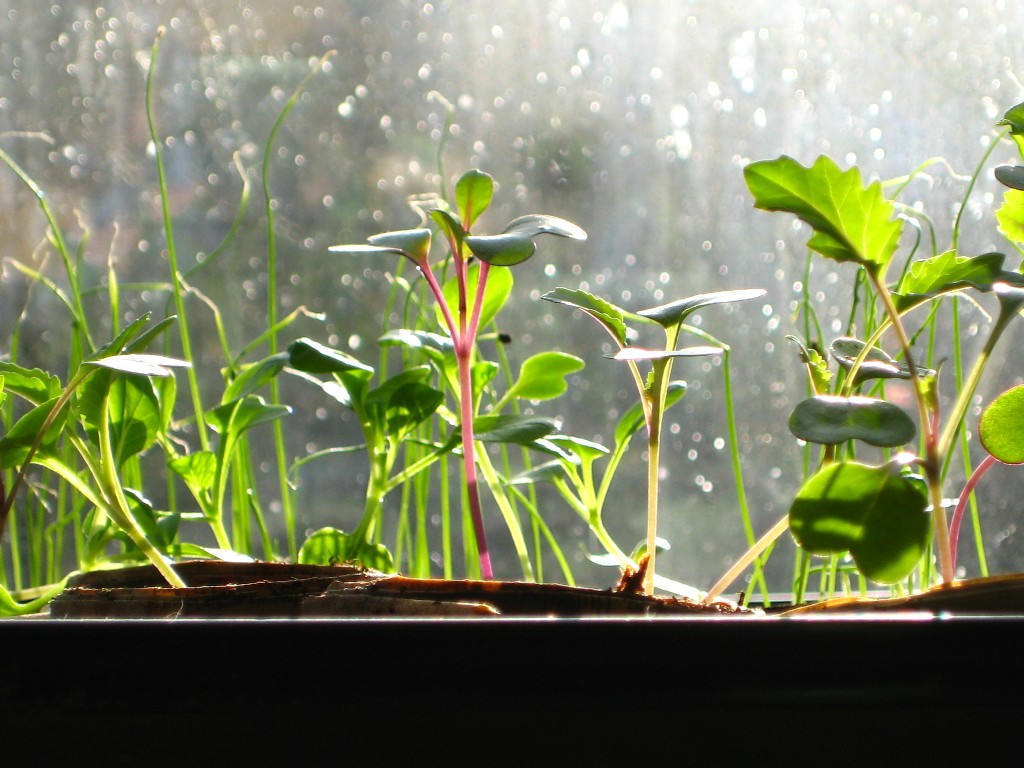 This flat includes starts of Leek, Cabbabe (red and green), Pac Choi, Jalepeno pepper, Kohlrabi and Buttercrunch Lettuce. I recieved my final seed order yesterday from seed savers exchange and hope to get two other types of pepper, some mixed lettuce and poppies going within the next day or two. I'll start tomatoes in March sometime. No sprouting yet from the cold frame, but I think I need to water with all the sun we've had lately. The soil inside the frames is actually looking pretty dried out now.
Thats the update from the garden. I am going to head out and soak up some of this sun before the rain comes tomorrow. We are going to pick up some wood this morning for incorporation into the wall of the new garden bed. This is Gary's baby so I will defer to him to post on it (I'll give him a week, then I get to blab about it).