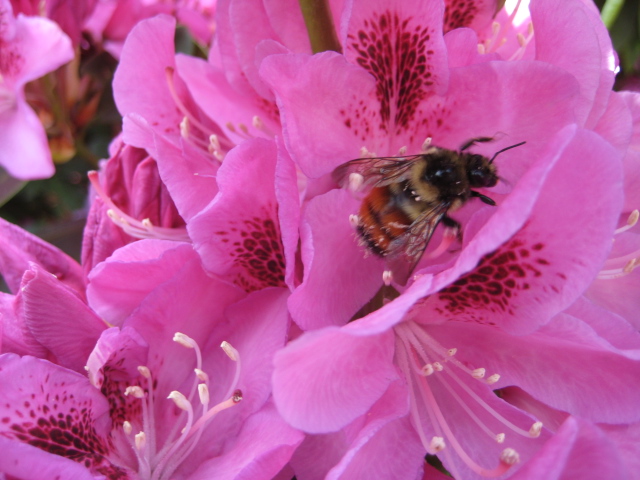 No – this isn't one of ours. This is a picture from last May when our rhody bloomed. For living on a small city lot we actually get our fair share of wildlife. The herons seem to have established their migratory pattern right over our house so during the summer we see them cruising by and when they first show in Spring it is a welcome sign. We have all sorts of other birds too, most of which I (embarrassingly) can't identify, but of those I do recognize we have stellar jays, chickadees, hummingbirds, robins, some sort of wood pecker and the ubiquitous crow. Huxley has a war currently on with the crows – something about his airspace being violated. This year also brought us a bald eagle. I've caught him gliding around several times on our Skyway winds and sometimes he alights in a nearby tree to survey the area.
I'd like to think that all of our efforts in planting out the back and front yards have made a nice little habitat for all of the fauna. We also have bees, lots and lots of bees. This past spring and summer I had great fun stalking bees in the yard with my camera. They are fascinating and I am thrilled to have them doing thier business in my backyard. So all of this lengthy introduction is intended to reveal the fact that we are going to try our hand at beekeeping this year!
I am beyond excited about the prospect and have been consuming beekeeping books and articles for a while now. About 3 weeks ago I drove out to Belfair to pick up two deep brood boxes and 4 honey boxes from a beekeeper who had posted on CraigsList. He had a bad shoulder and was slimming down his operation as it was becoming more and more difficult to lift boxes that can get up to 100 pounds when full of bees and honey.
Gary and I took a short intro to beekeeping class at the Snohomish County Extension Small Farms expo last month, and last night we attended the Puget Sound Beekeepers Association meeting. We will be taking a 2 day intro to beekeeping class offered by the PSBA in March and our package of bees will arrive in late April. I just have to say that ever since I started researching and talking to people about keeping bees, I have never met a more friendly group of people who are thrilled to offer you advice and help you get started. I also had the good fortune of hooking up with one of my mothers co-workers who has kept bees for years now. He invited us out to his place and offered to be a sounding board for advice and questions.
It is king of astonishing after so many years of being interested in 'off-the-wall' things and having to learn everything by book-reading and trial/error, to find such a willing group of mentors and excellent resources. We still have several supplies to buy – a smoker, hive tools, queen excluder, feeder, the list goes on. But come late April we should be buzzing around here. And talk about a symbiotic hobby – beekeeping and gardening! I am interested to see if there is an effect on my ultimate fruit set this year.