Whew, 7 whole days and not a peep! Sorry bout that, I don't believe I'm alone though. We have had a spate of beautiful days here, starting on Friday and continuing clear through today. A large portion of the PNW blogs I have on my reader have been strangely silent as well. When we actually have weather we can work outside in in the early parts of April, you can bet we are only sitting in front of our computers for as long as it takes to pull a paycheck!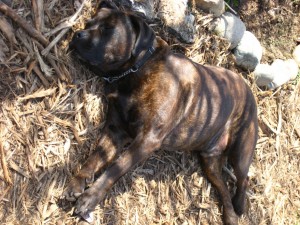 We got a lot done this past week and it eased the wet weather malaise that often hits me this time of year. I picked up a yard of hogfuel last Tuesday and managed to get it unloaded on Thursday mostly in between rainstorms. I believe everybody that is a part of this little household was happy about that. The slip-n-slide that once was the pathway and chicken pen has been abated and we are high and dry again on this hill. Hux was simply thrilled that he didn't have to get his paws muddy while on patrol.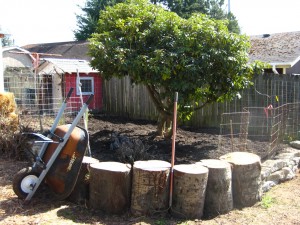 We also completed the new bed under the Rhododendron this weekend. It took close to 4 yards of compost/soil all hauled and unloaded on Saturday. May I just say once again how thankful I am to have Cedar Grove nearby? Three trips out there in the truck, innumerable trips from the truck to the backyard with the wheelbarrow and sooo much money saved. Gary completed the surrounding wall on the bed as well. It looks great and I am excited to start filling it up. Late last evening I put in the potatoes as a baptismal planting.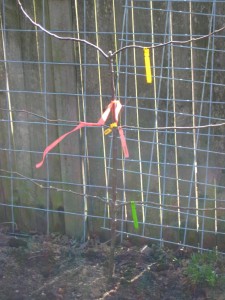 On Sunday morning, after hitting the West Seattle Farmers Market we headed just down the street to Mintners Earlington Greenhouse. I had noticed that they were having a 72nd year anniversary sale in which everything on stock was 30% off. We walked out with an espaliered apple tree grafted with three different varieties from Raintree (Chehalis, Jonagold and Spartan) and a Meyer Lemon Tree. I'd been mulling over both of these purchases for a while and with the discount offered – it made sense to get them in. After a brief delay and heroic rescue from our friend J. we were back at home digging holes for the apple tree. I'll let Gary decide if he wants to elucidate the reasons for our extended stay at the nursery.
I direct seeded carrots, parsnips and beets into thier rows, transplanted broccoli and leeks also. I started seed for Aunt Mollys Ground Cherry, tomatillos and two varieties of squash as well. It doesn't look like much right now but give it a month or two and we'll be cookin! I rotated out compost from one of our in-ground compost bins and am hoping to get it spread and worked in to the worst bit of soil left in the main bed before the rain hits again.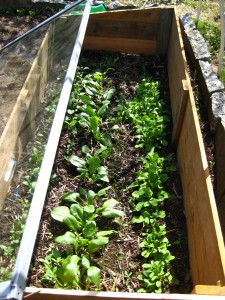 It has been so warm (65 degrees) the past few days I've had to vent the coldframes to avoid killing or bolting the spinach and arugula. But they are coming along swimmingly now and I steal a leaf or two to snack on everytime I go out. They will both be due a thinning here soon and we may even get a salad out of our own backyard!