Gary and I had a field trip this weekend. We went down to Kent/Auburn to check out a feed store (horrifying political discussion between the clerk and another customer to be related later) and then stopped by a U pick pumpkin farm. I have been thinking about trying to carve a pumpkin again (as an adult) for several years, and opportunity presented itself. The actual pumpkin carving adventure will be detailed in a later post (Friday, I would guess). But while we were there we picked up a bunch of fresh corn (harvested to make way for the corn maze I suppose), some celery, a kubota squash and the biggest head of cabbage I have ever seen (in real life, I have seen those Alaskan mutants on tv).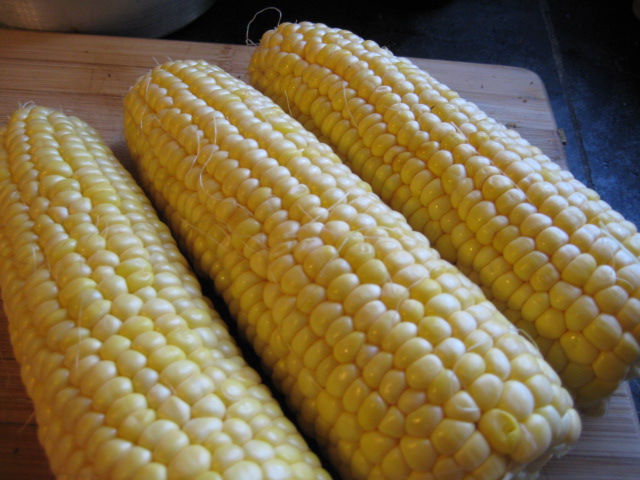 Our general plan was to buy some corn to cut off the kernel and freeze for the winter -but it was so fresh and tasty I had to cook at least a little of it right up. Luckily enough, our good friend (the salmon fisherman) had stopped by on Friday bearing a goodie bag of gifts including several frozen portions of King Salmon, Halibut and best of all – smoked salmon.
Now I have to detour from the chowder story for just a moment to pat myself on the back. A few years ago – for the holidays we bought our fisherman friend a smoker. And may I say that was the smartest gift I have ever given anyone? Talk about the gift that keeps on giving! He has gone through several experimental brines and cures at this point and makes an excellent smoked salmon (among other treats). Each year we receive the gift of the smoker back tenfold in freshly caught and smoked wild salmon – it doesn't get much better I tell ya.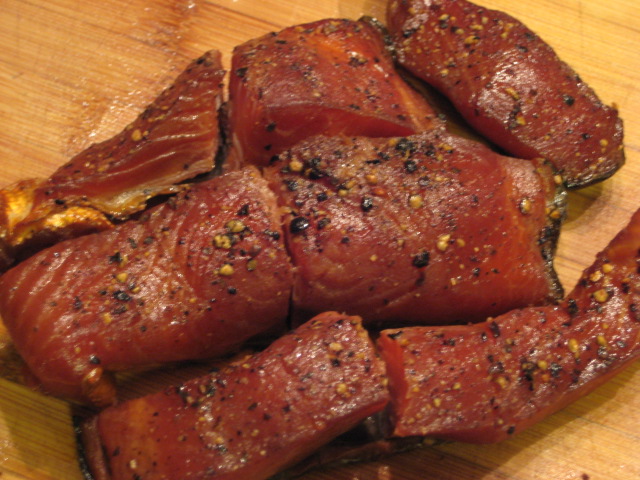 So I had all this corn, and I had all this smoked salmon and it seemed they were meant for one another. I took 3 ears of corn and cut the kernels off into a bowl (reserving the cobbs). These were really large ears of corn, less gargantuan varieties might take 4 ears or so. I diced an onion and two strips of smoked bacon and put them in the pot to saute. I diced up some leftover fingerling potatoes and a few yukon golds (probably about 1.5 cups all told) and added them to the onions and bacon in the pot. After sauteing the bacon, potato and onion mixture until the onions were translucent, I added the corn kernels. Gave it a brief stir and then poured in a quart of the corn stock I made earlier this year. I rounded out the liquid for the chowder with the remains of a half gallon of milk that we needed to use before it expired. I also 'milked' the corn cobbs I had reserved into the mix by running the sharp end of a knife along the cobb, draining the starchy-sweet goodness into the pot.
While the chowder simmered I broke up the smoked salmon into bite sized pieces. I then took about 3/4 cup of corn and blended it with some water and about one tablespoon of flour to thicken. I added this slurry to the chowder and seasoned with salt, pepper and thyme. When it was almost done, the potatoes soft and the corn cooked, I threw in the flaked salmon and called it good. I threw a few roasted pumpkin seeds on top for texture. A big bowl of chowder with a slice of Skyway Sourdough alongside made for a wonderfully winterish meal.