My Dad dropped by yesterday with a big surprise. For any of you who have been reading for a while, you have already listened to me whining and complaining about the price and rarity of stoneware crocks. Big crocks are the most useful tool for many of the lactic fermentation projects I want to start. It appears they are such a collectors item that I haven't been able to find any at a reasonable price for actual use (instead of sitting pretty on someone's shelf). Well, yesterday my father dropped by with this beauty.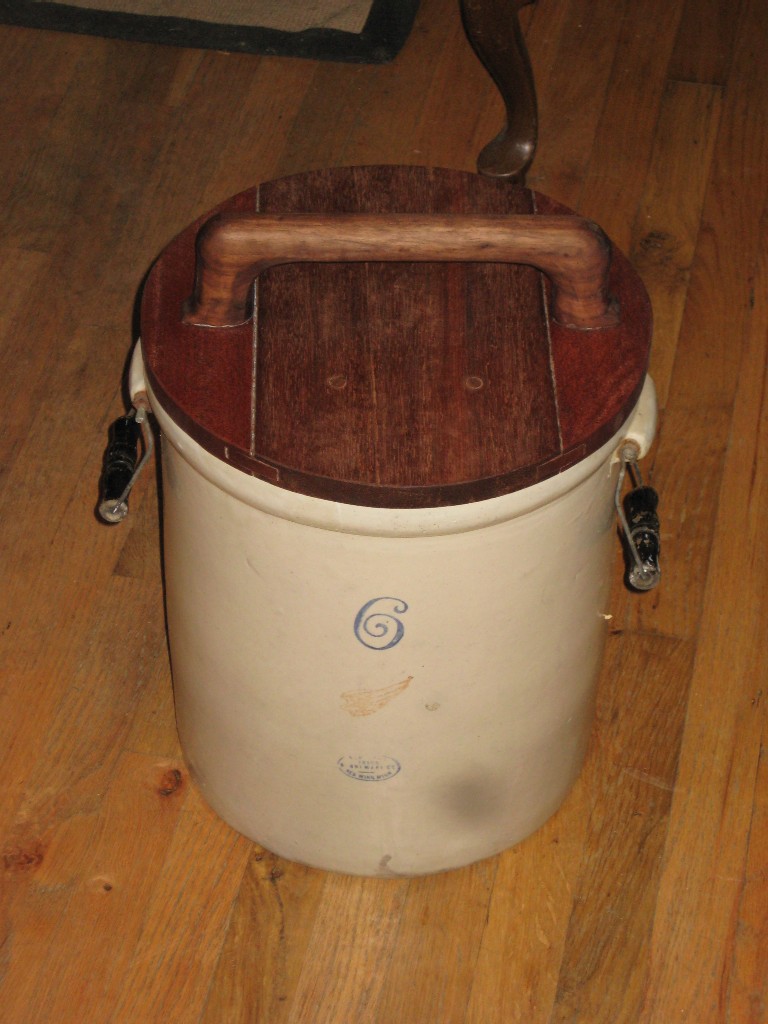 Note the gorgeous lid that he made from Walnut and Mahogany (he does beautiful work – you should see my kitchen cabinets). The crock came from my aunt and uncle who he had just visited down in Eugene, (Thanks Jim and Kat!). I was beside myself with the gift! Now I have the means to do large batches of sauerkraut, salt preserved green beans and whatever else I dream up. I think the first order of business will be to ferment a whole head of cabbage from the spring cabbage harvest. Howling Duck Ranch posted about this earlier in the year and the idea intrigued me. Once fermented, she peels off the whole leaves and uses them for cabbage rolls. I'm already pondering some homemade sausage from our half-pig stuffed inside fermented cabbage leaves with other goodies.
In other news, the first package of seeds arrived from Nichols Garden Nursery and are happily piled in the livingroom waiting thier chance. I've gone the route of complete and total OCD this year with the garden planning. Spending hours calculating out days to maturity and fitting in different crops who's timelines work with each other. I made a to-scale excel template of two of the garden beds and mapped out the first planting too. At the risk of exposing exactly how obsessed I am, here is the first Feb-May garden plan for the year. It isn't really that readable an image because it is (necessarily) done in pencil and has already been erased and written over a million times. I have two others in states of mid-completion for the summer/fall months.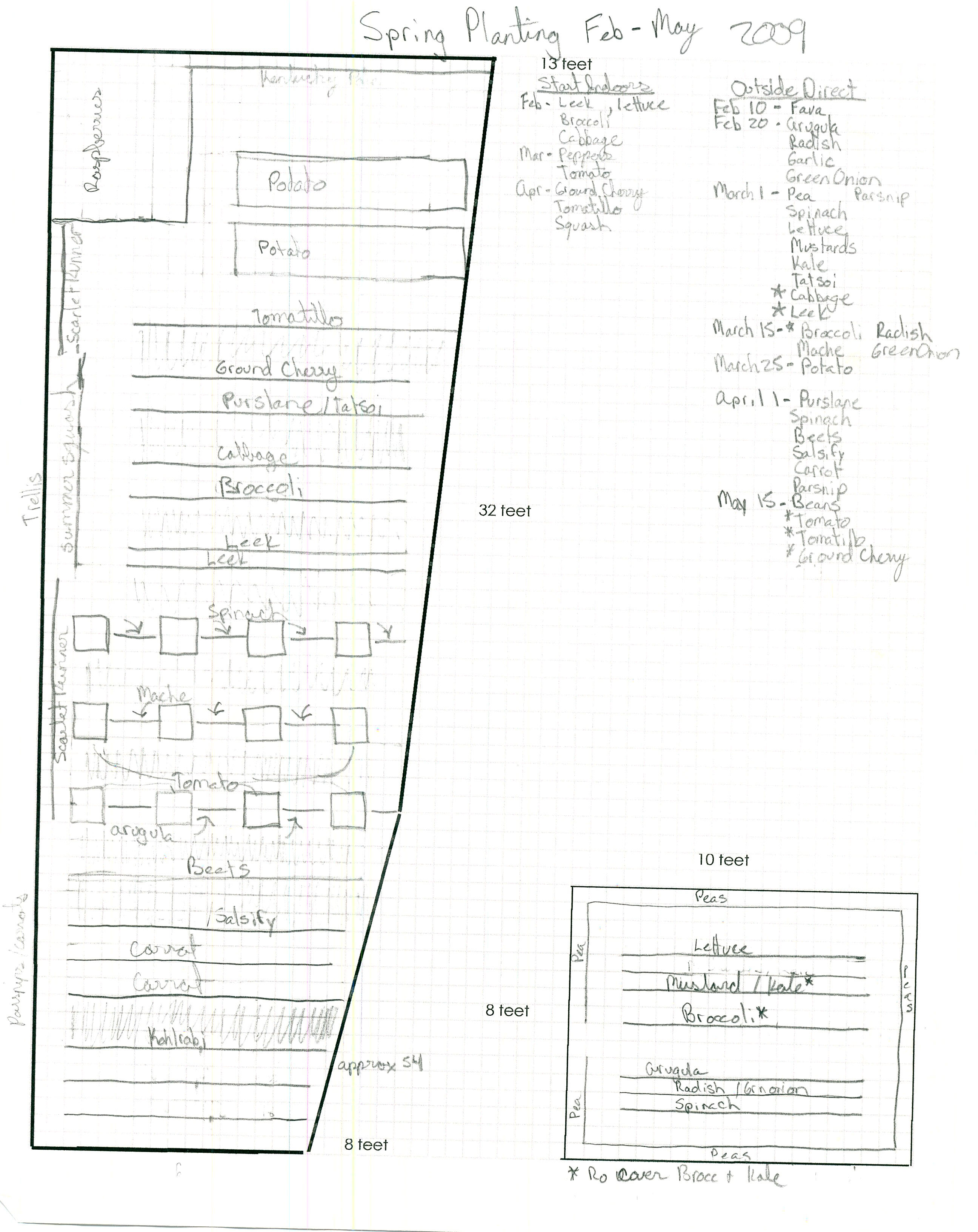 I am working out a deal with my friend down south to borrow some of her land for growing winter squash this year. We love having squash to take us through the dark months, but it is such a space hog for our little eighth of an acre that I proposed doing a trade of some sort. In exchange for a few plots of ground to grow our squash in, I will start seed for her. We have a consistent warm environment here in the house so she should get a quicker growing season out of the deal. I've expanded what we are growing this year so it will be nice to have the space that the winter squash usually takes.
The chickens have started laying again. Apparently all it took was the passing of the solstice and they have kicked in to spring mode. The past several days have yielded us at least one if not two eggs each day. I am once again reminded how much better thier eggs are. Even when we do buy eggs at the store, we buy a local organic free range brand, but they don't even come close to our eggs. The girls all came through thier molt and are flying thier coop regularly. Hopping over the fence to get at the bugs on the other side. Not a big deal as they stay in the yard, but it puts us in the position of having to do a chicken check everytime we are about to let Hux in the backyard. I clipped wings earlier this morning in an attempt to curb the breakouts, but not an hour later Blume and Dahl were pecking in the yard again. I think a taller fence is in order.