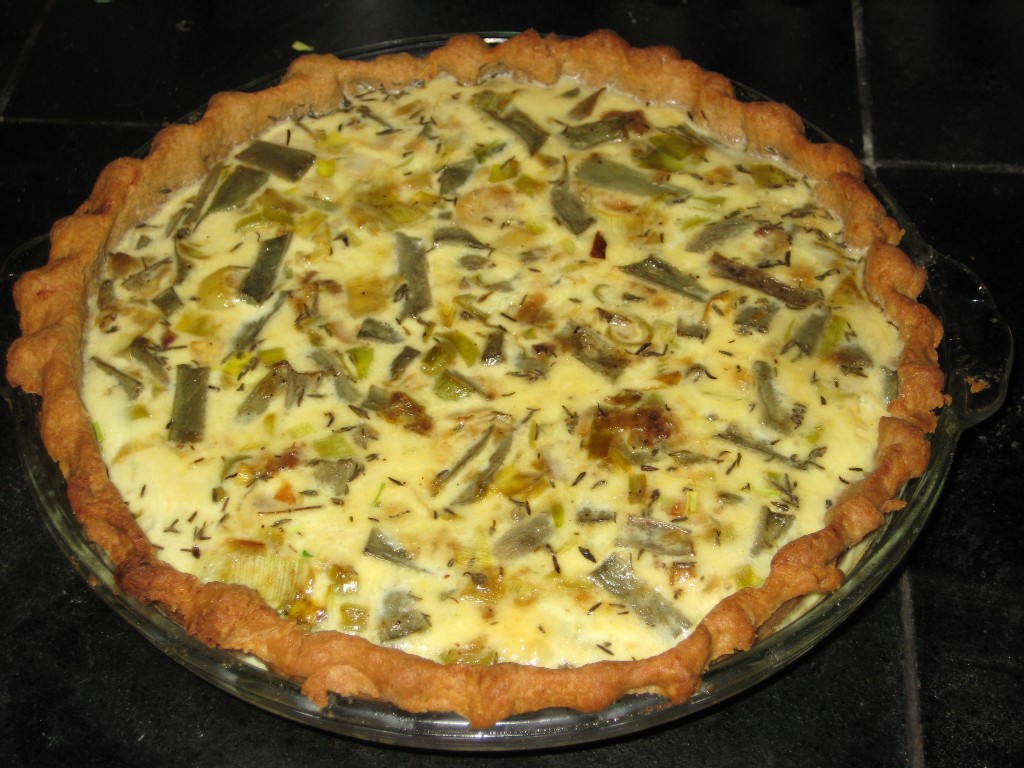 This weeks meal is essentially the same as last weeks featured meal – with a few additions. The truth is that the farmers markets have been pretty scarce lately and the main output from our own garden after the snow has consisted mainly of Leeks and Eggs. That, coupled with the fact that I am trying to eat something other than potatoes all winter led to a reinvention of the Leek and Chevre omelet of last week. The chickens are still putting out eggs like it is the height of summer. A pleasant surprise as I did not at all expect this sort of production in January. We don't artificially light the coop, so they must know something that is escaping the humans of the household.
This meal was also an attempt to use some of the leftovers we have in the fridge from earlier meals this week. I decided to make a quiche with our abundance of eggs. Another simple and easy meal. I made a pie crust from whole wheat flour. I've been experimenting with proportions of white to wheat flour in my crusts over the past year and have found that I can use 100% whole wheat without sacrificing any of the flakiness or tenderness in the crust. For the quiche filling I pulled two leeks from the garden, sauteed the last of the salt preserved green beans (featured in my first Dark Days post), threw in some shredded beef from an earlier pot roast meal and topped with the remaining chevre I picked up at the farmers market last week. We also dipped into jars of salsa canned earlier this year for adorning the slices of quiche. One mild tomato salsa and one spicier tomatillo salsa for me.
One of the challenges for me in trying to eat locally this year is the lack of greens after a big freeze. I've mentioned in earlier posts my goals of getting together a much more comprehensive winter garden for next year, but this year everything that was exposed to the elements took a header and we are essentially left with sweet and starchy items until the first spring greens come in. It seems to be the case for our local farmers as well if the offerings at the markets are any indication.
Now don't get me wrong, I love potatoes, squash, onions, apples, leeks, etc. And if I were actually doing enough physical labor during the spring/summer/fall I would look forward to winter when I could hibernate, loosen my pants a little and binge on the starchy goodness until work season rolled around again. But as it is, I make my living sitting in front of a computer regardless of the season. And I'm afraid no amount of dog walking, manic gardening or home improvement projects is equivalent to the labor expended during a haying/planting/harvest season.
Therein lies the irony for us city slickers, when we try to eat with the seasons we realize that our bodies and lifestyles have become so disconnected from the production end of things that the normal nutrient balance/body weight bell curve doesn't exactly curve downward anymore.  So we join gyms and pay them for the privilege of sweating under their roofs – all of that energy, food energy, being spun out into nothingness on the wheels of a recumbent bike. Or better yet a treadmill that takes electricity, burning energy to assist us in burning energy. The irony…
Local Ingredients: Eggs , green beans and Leeks (our backyard), Chevre (River Valley Ranch), Beef (Prarie Springs Ranch), Butter, Milk and Cream. Tomato Salsa (Tomatoes from our backyard, other ingredients from Summer Renton Farmers market). Tomatillo Salsa (Ingredients from Renton Farmers Market). Wheat Flour.
Non-Local Ingredients: Salt, pepper, nutmeg.