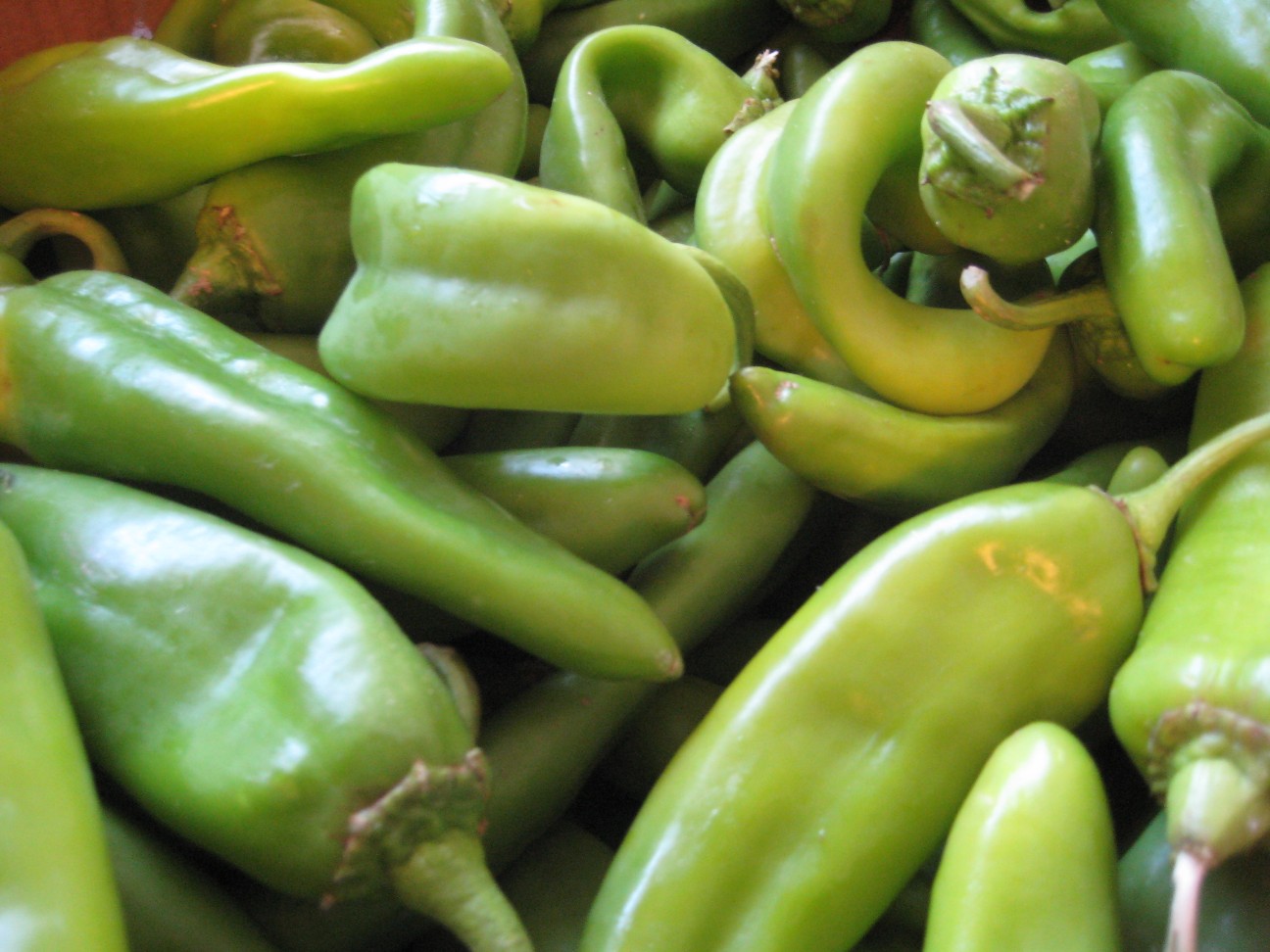 26 pounds of fresh hot Hatch green chile from New Mexico. I was born in New Mexico and although it has been almost 24 years now since we moved away, there is little that can compete with a big bowl of green chile as the ultimate grounding and centering meal.  No – this is most definitely not a local meal, but I don't care. I've tried to make green chile with peppers closer to home (usually from the eastern side of the state). But Washington's anemic Anaheim peppers don't even get close to the level of flavor or heat a Hatch chile packs in it slender green package.
My dad gave me a call the other week when he heard an advertisement on the radio that one of our local supermarkets was selling fresh chiles for a limited time. By definition, fresh Hatch chiles are only available for about a month since they are only grown in one region of NM, thereafter they ripen into the red chiles tied into ubiquitous ristras  or pulverized into powder for other, truly delicious applications). The Pacific Northwest-New Mexico phone tree fired up and everyone we know was notified.
The only other way to get green chile is to either know somebody who regularly travels down there or pay an insane amount of money to have frozen packages shipped up here (at last check it was somewhere around $150 for 10 pounds). Prices like that are not within my budget, and while I do still have some family down there that brings us beautiful chile care packages when they visit – fresh chiles are a little hard to get on a plane in any substantial bulk and they are only available in August/September (timing doesn't always work out).
So – after waiting over a week for my special ordered box, I spent the large part of yesterday afternoon and evening roasting and peeling the peppers. Despite wearing gloves the entire time, my hands were absolutely on fire for several hours after I had finished. I froze the bulk of the peeled and diced chile in quart bags and also for the first time canned seven jars of the chile to see how that worked. The jury is still out as I haven't tried it yet, but if it is palatable it will be a nice way to preserve in the future. Gary-of-the-tender-mouth knows nothing of the pure joy and deliciousness that is green chile so being able to package it in ready to go single servings will be great.
So, I'm feeling mighty rich right now and well prepared for winter! And, although the elevation and weather is all wrong – I still saved a big handful of seeds to experiment with next year to see if I could at lease get a plant to grow.