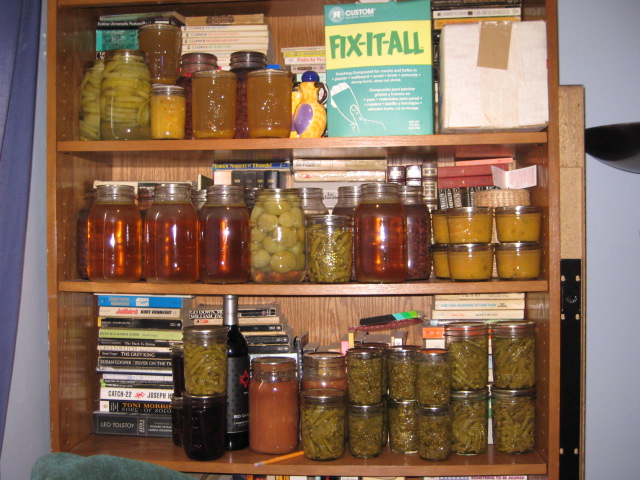 Laura over at (Not so) Urban Hennery posted a pantry expose a few days ago that got me thinking. I dropped out of regularly posting for Independence days and have yet to do a full assessment of what we've managed to get from the garden this year. Now I don't even have a pantry to expose – all of my canned goods are stuffed into corners, on top of dressers and shoved in among books on our bookshelves due to a complete lack of storage space. So these pictures should have been closeups in order to avoid exposing our chaos. But it is a good exercise to see where we are in terms of storing away food for winter.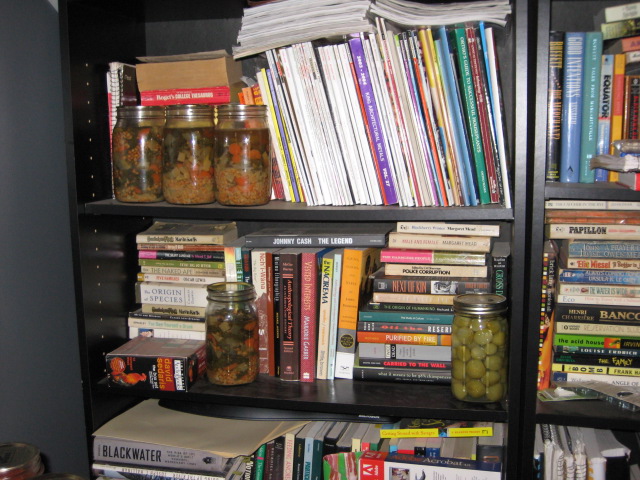 What follows below is a list of what has been harvested and preserved in one form or another from the garden this year. We still have a bit of a harvest to do outside through the winter as well. Swiss Chard is still going strong and I am hoping for a mild enough winter so that it offers greens through the dark days. We also have a bunch of Leeks that I am leaving in the ground until needed. If a frost comes I will protect them with straw, but they should keep for a good part of the fall and winter. The Italian parsley is going gangbusters and I need to harvest it before it dies back (in my opinion, dried parsley is just silly and a waste). Beets are coming up, spinach and rutabaga seedlings are faltering a bit and I don't know if we will see any produce from them.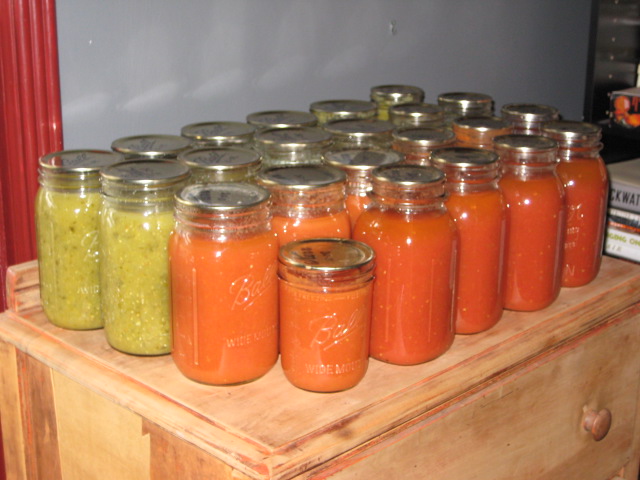 Preserved for Winter (Items with an asterisk denote produce we either picked ourselves or got at the farmers market)
14 quarts green tomato enchilada sauce (good for soup bases and braising too)
11 quarts tomato sauce
7 pints green beans
4 quarts Wheat berry* and Kale soup
9 quarts black beans* (we've already eaten a few more)
7 half pints of Peach Habanero salsa*
2 quarts apple sauce
7 quarts green tomatoes
8 half pints tomatillo* salsa
2 quarts corn stock*
5 quarts chicken stock
4 pints Rhubarb juice concentrate
4 half pints roasted tomato paste
6 half pints Blueberry Habanero Chutney*
8.5 ilbs Rhubarb, frozen
4 gallon bags chinese broccoli (kai lan), frozen
1 quart bag yin yang beans, frozen
1 quart bag peas, frozen
1 gallon bag smoked eggplant* ravioli, frozen
3 gallons blackberries, frozen
2 gallon bags kale, frozen
Approx 35 lbs Sugar Hubbard Winter Squash (1 not yet harvested)
We've still got tomatoes ripening, the majority of which will be turned into more sauce as they come along. I plan on making another batch of green tomato relish as well. I also want to give a shot at making and freezing a few of my savory green tomato pies this year (recipe posted below) – to see if they hold up in the freezer alright. If they do those will be a great quick meal for nights I don't want to cook.
In retrospect, not too bad for a tiny yard in the city. It won't be enough to feed us through the winter – but it is a good step towards producing a good portion of our own food. Our meat orders from Prarie Springs and Whistling Train will come in November and January respectively, giving us a bit more protein to go along with the veg. Next year I have goals of being much more together when it comes to planning (and actually planting) a fall garden. I was super industrious this spring and faltered when it came time to get stuff in for a fall harvest. I still need to order garlic for planting now, and also want to get some favas for an early spring harvest. I also need to make my mind up on what type of fruit tree to put in. We have very limited space but I think I can get a semi-dwarf in along the fence. I'm thinking paw paw…anyone round these parts have a suggestion?
Savory Green Tomato Pie
Pie Crust (makes 2 crusts)
2.5 cups flour
1 cup cold butter (diced into .5 inch cubes)
1 teaspoon salt
1 teaspoon sugar
Ice water
Mix flour, salt and sugar together in a bowl or food processor. Cut butter into flour mixture until it resembles coarse cornmeal. Using a fork, slowly add just enough ice water to make the dough come together. Divide dough into two sections (one a bit larger than the other). Take the larger piece of dough and roll out to fit a 9 or 10 inch pie plate, form dough to pie plate, (don't crimp)  and set in fridge. Roll out the smaller portion of dough to be the cover piece for the pie and place in fridge.
Green Tomato Filling
1 medium onion (diced)
2-3 cups diced green tomatoes
4-6 ounces Swiss cheese shredded (or cheddar, Gruyere, whatever you have in the fridge)
1 teaspoon thyme
Salt and pepper
.5 cup breadcrumbs (if you don't have breadcrumbs around you can sub a couple eggs and ¼ cup milk).
Preheat oven to 425. Sauté onions until translucent in a pan with a bit of oil or butter. Add diced green tomatoes and continue to sauté until the tomatoes have softened a little and any water from the vegetables has mostly evaporated. Add thyme and salt and pepper to taste. Let mixture cool a bit and transfer to a bowl. Add in the shredded Swiss and breadcrumbs and mix together thoroughly. Dump the Green tomato mixture into the pie plate (with crust) smooth out and then place the top crust on, folding the top crust edges under the bottom crust edges along the rim, crimping as you go. Cut a few vents for steam in the top crust. Place pie in the preheated oven and bake for approximately 45-55 minutes, until the crust is an even golden color.
Let cool a bit and enjoy!
** Bacon is really really good with the green tomatoes if you are so inclined. Just dice bacon and cook then add it to the other ingredients before putting in the pie crust.