AKA the great offal experiment.
As I've mentioned before, we ordered half a pig from a local farm a mere 15 minutes from our house this year. In the course of making the cut arrangements with the farm I inquired about the offal. You see, I am a bit preoccupied with using everything. Especially when an animal is being killed to feed me. I was alternately vegetarian or vegan for approximately 14 years. Now that I have started eating meat again I've focused on procuring as much as possible from local sources who treat their animals and their land with the respect they both deserve.
Our half pig is scheduled to be processed within the next week or two. We are behind the regular boat since I wanted to get a pig that had been scalded and scraped, preserving all of that pig skin on the cuts of meat for various curing and food preservation projects I have planned.  However, the butcher date for the remaining batch of pigs (which were being skinned on-farm instead of scraped at the butcher) was scheduled for this past Thursday out at the farm. Shelley at Whistling Train said I was welcome to come out when they butchered and take whatever we would like of the offal and other items that don't make it to the butchers table.
So Thursday around noon we headed out in the rainstorm to the farm nestled between the railroad tracks in Kent. We were the only customers there for the actual slaughter and apparently the only ones who had requested any of the offal. We got there before the slaughter truck and waited a while before they arrived and set to work. The mastery of these guys and the speed with which they worked was pretty incredible. The pigs were dispatched quickly with a single shot and rapidly were broken down into sides of pork that were packed into the refrigerated truck for transport to the butcher for further processing.
We walked away with 3 whole livers, 3 hearts and several kidneys. There was more for the taking, a total of 6 pigs were slaughtered. But a pig liver is a very large thing, and I need several more kitchen hands to accomplish the translation of raw organs to edible and storable food products. Next year I will be much more on my game (hopefully with kitchen recruits) now that I know of the volume available for the taking (that would otherwise go to waste). I drove home slowly, taking corners at 5 miles per hour with a large pot of organs in the back seat.
I'd never had pig liver before. Truth be told I wasn't exposed to much in the way of offal growing up. We had liver and onions, and aside from the occasional bowl of menudo or tacos de lengua when eating out, that about sums my experience. I had researched quite a bit in anticipation and decided upon 3 recipes to use the pig liver. I came upon the thought of making pate in half-pint jars and was curious whether I'd be able to can it. I decided to use the jars, but freeze the pate after cooking. Several sources stated that the pate survived freezing quite well. I was concerned about the high heat of the pressure cooker breaking the pate emulsion and turning it into a chunky greasy mess. I know there must be a way to do this as most commercially produced pate is offered in shelf stable glass jars or cans – but I will need to do some small scale experimenting before subjecting such a large amount of food to an untested process. I decided upon two different pate recipes, the first was Pate Campagne from Bourdain's 'Les Halles' cookbook, and the second was Pate Grandmere from 'Charcuterie' (Polcyn and Ruhlman). The last recipe I used was for an italian liver sausage called Mazzafegati, found on Hunter Angler Gardner Cook ( I omitted the pine nuts).
After soaking the organs in cold water for several hours on Thursday it was too late in the day to get started so I packed the them into the fridge for the night. Friday morning I prepped the marinades for the pates and set them to rest overnight in the fridge. Then I started on the sausage  and by Friday evening we had a large pile of links chilling in the fridge as well. Our friend J. stopped by just as we were starting to stuff the ground mixture into the sausage casings and his extra set of hands were most welcome. It is a messy job, but the results are well worth it. You can be assured that there was no shortage of crude jokes as these two gents helped to stuff the sausage.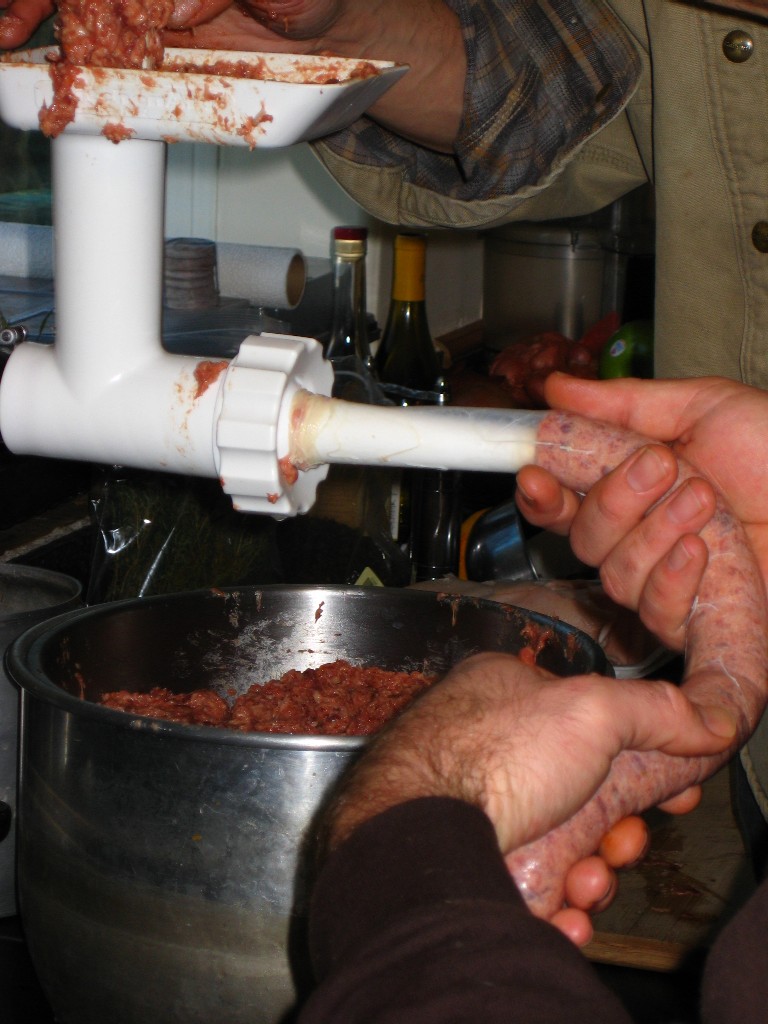 After sectioning off the sausage into links I let them sit overnight in the fridge to tighten up. We sent J home with a string as well for all of his able-bodied assistance. The next morning I packed up the pan of sausages and put most in the freezer – saving one to cook (gotta test your product, ya know).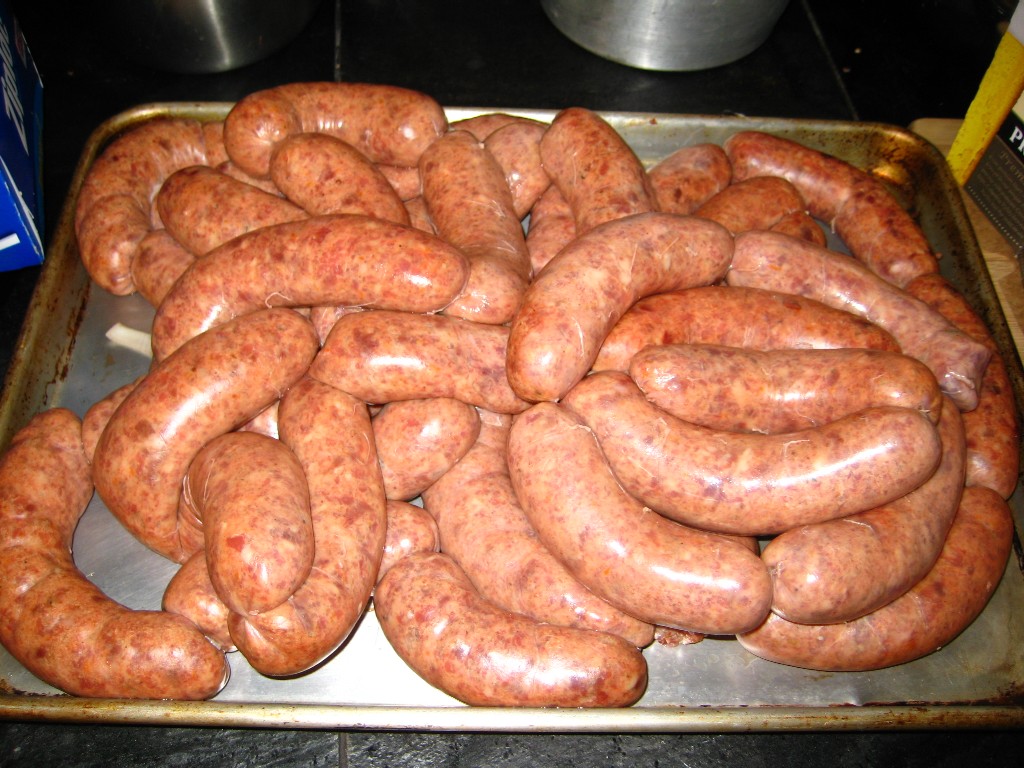 The pates were finally finished late Saturday night, when I pulled the last batch out of the makeshift bain-marie. Most of them I put in the freezer, reserving a small jar of each type for the fridge and snacking/taste testing. Overall, we are both very pleased with the way they all turned out. The sausages will provide numerous meals, and the pate's are excellent to have around for our snacking purposes, for dinner parties and guests.
I have to admit I was a bit anxious about going out to the farm for the slaughter. I'm really a big softy at heart. I had the opportunity when I was much younger to help some family friends on slaughter day. We killed and processed the chickens they had raised and watched while the mobile slaughter guys killed and broke down the cows. I think I was maybe 10 at the time. I handled the chickens fine, but the cows for some reason really shook me. I think it is important to have a full understanding of where our food comes from, so I wanted to be there for the slaughter. The preceding week was full of all kinds of mental preparation. I was kind of surprised at my reaction this time. For me I think there will always be some emotion involved in seeing an animal killed. But knowing where it came from, how it was treated and processed from beginning to end of life and doing what I could to not waste any of it brings some sort of solace. All in all I feel ok about it, I feel ok eating it, and I feel closer to the understanding of how food arrives on my table. Somehow there is something therapeutic in witnessing and doing the processing work yourself. In many ways, for those of us that eat meat- this is the logical extension of gardening. Gaining a greater understanding of what goes into the dinner put in front of you every night makes you appreciate every morsel and think twice before you blithely pick something up at the supermarket.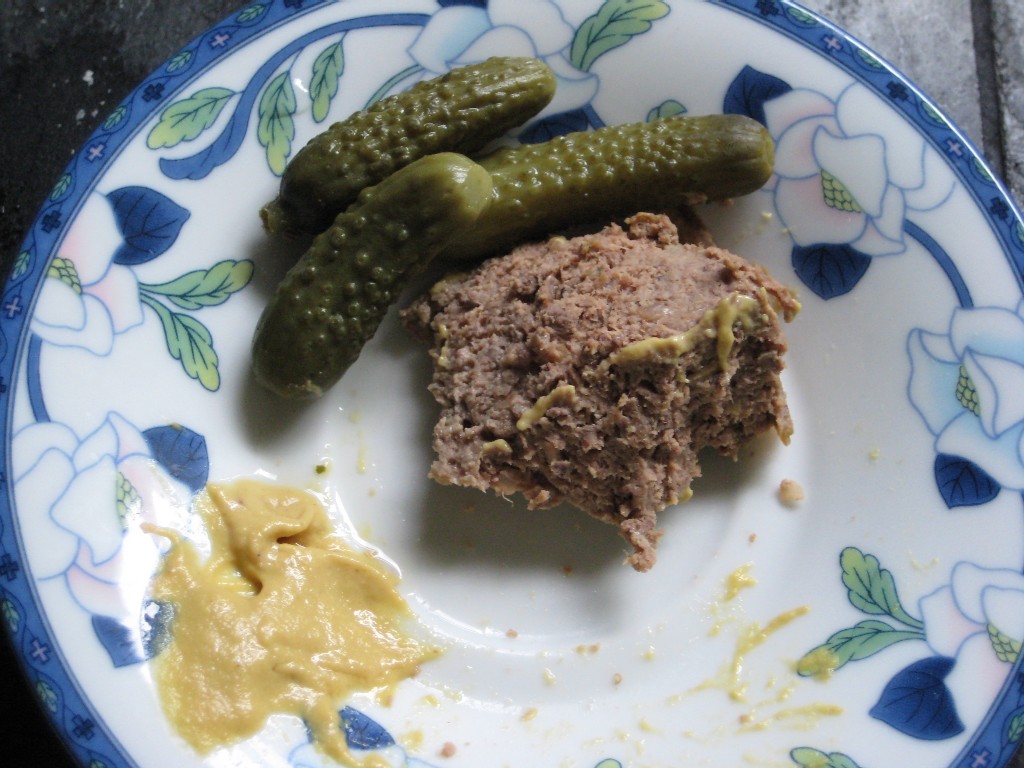 And now I need to focus on the heart and kidneys, which are still in the fridge. If any of you have recipe suggestions or advice, I'd welcome it! Also – if there are any local like-minded readers out there who might be interested in a kitchen work-party next year, please drop me a line. This is a case where there can't be too many cooks in the kitchen!