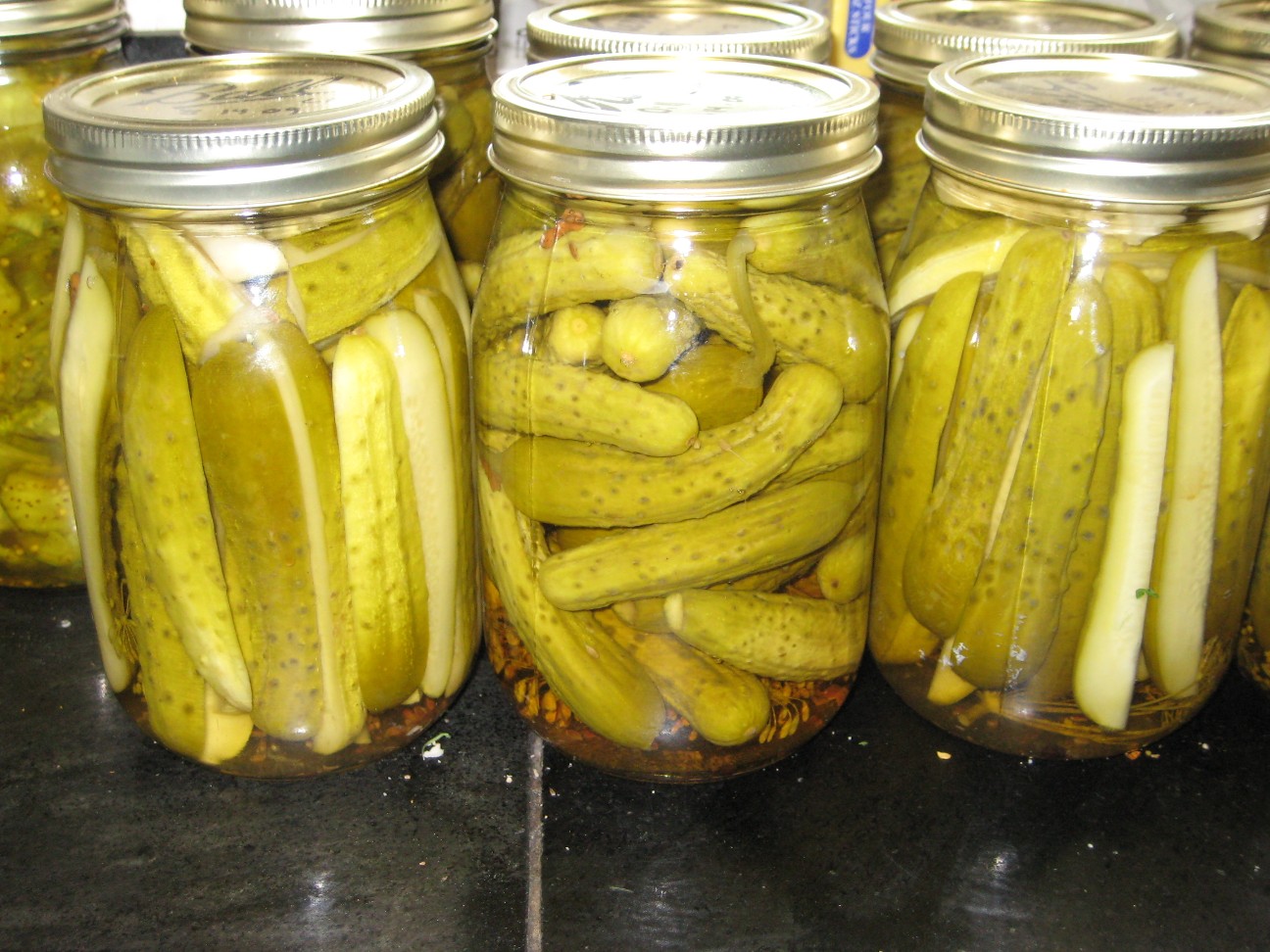 Canning season is upon us. In this house it actually never really ends since I find myself canning up big batches of chicken stock every couple months from the trimmings and bone I hide away in the freezer after we roast a chicken. But the preservation of summer's gifts has officially begun. It all started in drips and drabs with the strawberry jam making sessions and assorted fruity booze experiments. But last Friday made it official with pickle time. I made a large batch (mixed whole and spears) of Laura's dill pickle recipe (I've had the chance to taste test these myself and they are fabulous). I also made a batch of Bread n Butter pickles and dilly beans.  With the smallest of the cucumbers I made a few jars of french style cornichons (no dill) to accompany the remainder of the pate's still stashed in the freezer. If I can fit it in, tomorrow I hope to head out once again to Duris Cucumber Farm to pick up another bag or two of freshly picked cukes to make a batch of lacto-fermented pickles.
Saturday morning I've got grand plans for Blueberry and Blackberry preserves canning session with a friend. There is a blueberry lime jam calling to me from the ball blue book, I'd like to make another batch of KitchenMage's Blueberry Habanero Chutney and I am going to experiment a bit in using the food mill to remove some of the (excessive) seeds present in our wild blackberries for jam. Hmmm, perhaps a blackberry vanilla variation? I am hoping to get a bit of blackberry picking in this evening for a sideline trial of Blackberry Pickle and a batch of Blackberry Vinegar. I managed to injure the tendons in my right hand peeling a kohlrabi earlier this week, so it should be interesting to fully realize the dexterity needed to pick berries in a wrist brace. (Isn't it just like me to suffer injury by kohlrabi of all things?).
Ahh the list of experiments is long this time of year. I still hope to make another harvest of the rhubarb, which has bounced back from the earlier pie extravaganza. One of my cousins procured a tried and true rhubarb wine recipe that I'd really like to get going (perhaps make a blackberry-rhubarb variation on that…). I also came across a mention of Bread n Butter Jalapenos while researching recipes that is calling out to me, so I picked up an extra bag of peppers at the Renton Farmers Market on Tuesday.
The last two nights have been dedicated to dealing with a massive parsley harvest (detailed in an upcoming garden status post). I had a plant go to seed last fall and was positively overflowing in flat leaf parsley. I bundled up a bunch of it and set them in a tub of water on the side of our street with a free sign when I first harvested. They were all taken eventually, and I hope it was enjoyed. The remaining huge bag was broken down into a parsley pesto with walnuts, lemon juice and garlic. I made several batches of this for freezing and found that the batches in which I subbed vegetable oil (canola) for olive oil I actually liked better. Somehow the canola oil came off a bit smoother and enhanced the flavor of the parsley rather than competing. Most of this was frozen immediately – but several large dollops were reserved for the first (pseudo) BLT's of the season.  Bacon from our Whistling Train pig was placed on an open faced slice of homemade bread, layered with huge, thick slices of red and yellow tomato and topped with generous spoonfuls of the parsley pesto. I don't know if there is much in the world that tops that flavor…