I've been reluctant to write about this until it all actually came to fruition for fear of something going wrong. But as everything seems to be in the clear now I'll go ahead. As many of you know (by virtue of the title of this blog) we are on a very small city lot here. It is approximately 1/8 of an acre in total and that includes a house footprint of about 800 feet, a concrete patio and several very shady spots under the Crimson Maple and Douglas fir that hold down either side of our front yard.
We have done a lot with what we have. This year we have finally eradicated the last of the lawn and completed what is likely the last major planting bed in the backyard (if there is to be another, I have no idea where we will fit it). We've planted several perennial crops – Walking onions, Rhubarb, Raspberries, Blueberries, Chives, Plum and Apple trees, numerous herbs. And regularly cram as many annual crops into our small yard and short growing season as possible. My ideal would be to get us to the point where we produced for ourselves somewhere around 90% of our vegetable diet. We get a good protein supply from the hens eggs and I am fine with purchasing our meat from small local producers trying to make a go at sustainable and humane production.
I've been on the hunt for a bit of extra land in the neighborhood to use for gardening. Some of you might recall that I made an arrangement with a friend that has acreage 2 hours south of here to use some of her land to grow longer season crops like winter squash. But the more I thought about it, it seemed an difficult arrangement.  I would either be putting the onus on her to keep an eye on my crops, watering and weeding them etc or I'd be driving two hours each way numerous times over the course of the summer to raise my "locally grown(?)" food.
Back in March I started sending out letters to owners of bare lots I had identified up here on the hill. And earlier this month I received a response from one . My original letter had inquired about use of the land for gardening ideally in exchange for a box of fresh produce during the growing season, but alternately that I was willing to discuss a rental arrangement as well. The owner that responded to me lives up north, she indicated that she would be happy just to have somebody taking care of the land like her father did when she was a child (no rent or produce necessary). She did ask that I sign a release of liability in the case that I injure myself while working on the land (perfectly reasonable in my mind). Oh! And that I not grow any illicit substances!  (I assured her that the closest we would get to illicit would likely be some vaguely pornographic tomatoes).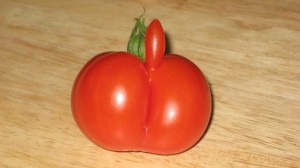 We had actually gone to look at this piece of land a few years ago when it was on the market (it never sold). It is undeveloped and just over an acre. It was obviously at one point a well developed garden and orchard, attached to the property of a house it has since been subdivided from. When we went to look originally there was a golden plum tree loaded with fruit and several apple trees and a cherry as well. All of the orchard trees were unkempt (and still are, even more so). The windstorms of the past few years have not been kind to many of the trees on the property and the blackberry and scotch broom are slowly swallowing everything.
I spent this past Saturday battling blackberry vines and topping scotch broom in the upper (flattest) portion of the land. The majority of the land is on a south facing slope and is covered diagonally by the immense electrical lines that grace our fair hill, bringing power to the richer masses (with higher property values and underground power lines). The scotch broom is VERY hard to dig out and after some research I came across the Weed Wrench, a (I am hoping) miracle tool designed specifically for the woody-stemmed invasives like tamarisk and scotch broom. I also found out that the King County Noxious Weed Division owns several weed wrenches that they loan out at no cost. So – I now have a date with the weed wrench on April 30th!
As I was clearing it was fascinating to uncover the vestiges of a garden past. I saw a few struggling vines of what look to be some sort of raspberry cane, surprise patches of daffodils blooming bright yellow under the blackberry brambles, 4 gorgeous cedar trees, a pacific yew, all sorts of ornamental bushes and shrubs, and clumps of day lily peeking out. There are numerous other things coming up that I have yet to identify as well, no doubt I will once again call on the skills of you readers!
There remains a lot of work to be done before I can begin to plant anything. The blackberry fight has only just begun. I also am in the process of trying to devise some sort of quick-setup, impermanent rainwater catchment on the land as there is no plumbed water. If I can get a few rain barrels full during the still-wet month of May I should be in good shape (with judicious mulching). I also hope to get a trim in on the long-neglected orchard trees before they start budding in the hopes that they rebound a bit. Though from the looks of the still-rotting fruit underneath them, they are still productive and we should see at least a small harvest.
I will try to take a few pictures the next time I am over there. I should have done a full set of "before" shots before I went in with the clippers last weekend. My current agreement with the owner only extends to November of this year, but I am hoping we can renew again next year (and that nobody buys the land to build condo's or a $500k house on it!).