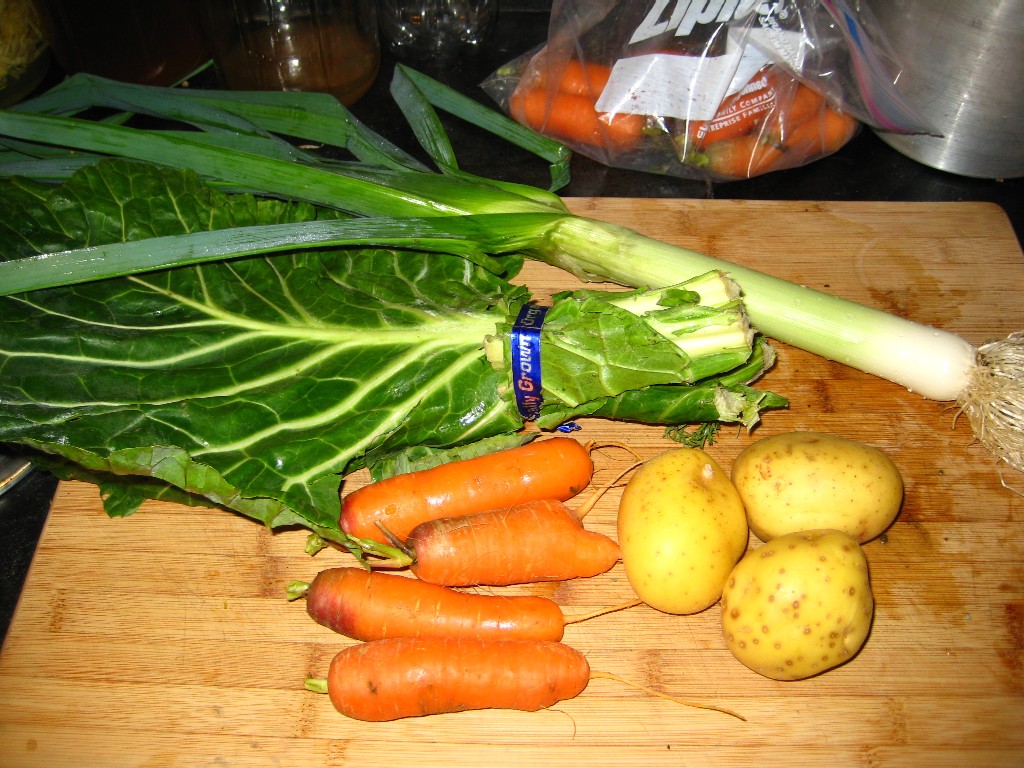 We are still working off the Thanksgiving Turkey round here. Many of our meals for the week have incorporated it in some fashion – but this soup, which I've made variations on before, always hits the spot. I had two big bunches of collards hanging out in the crisper from the West Seattle Farmers market the previous week. I combined them with some farmers market carrots, local yukon gold potatoes and leeks from the backyard.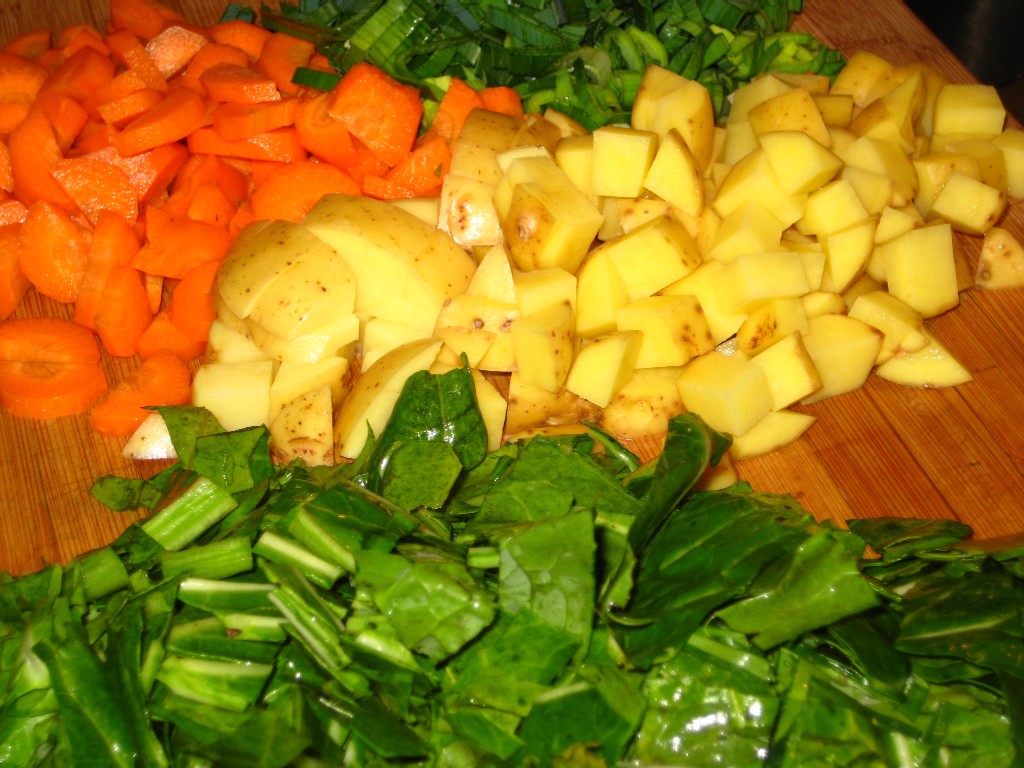 I've gotten in the habit of using almost the entire leek lately, not just the lighter parts. The dark greens take a bit longer to cook but they are full of flavor and a shame to waste (or compost as the case may be). I diced everything finely and sauteed with a pat of butter in the bottom of a large stock pot. I threw in 3 quarts of homemade turkey stock and set it all to simmer for a while.
Meanwhile I grabbed a bunch of parsley from the garden and pulsed a combination of cornmeal, chilled butter, flour, pepper, baking soda and salt in the food processor until it all resembled coarse crumbs.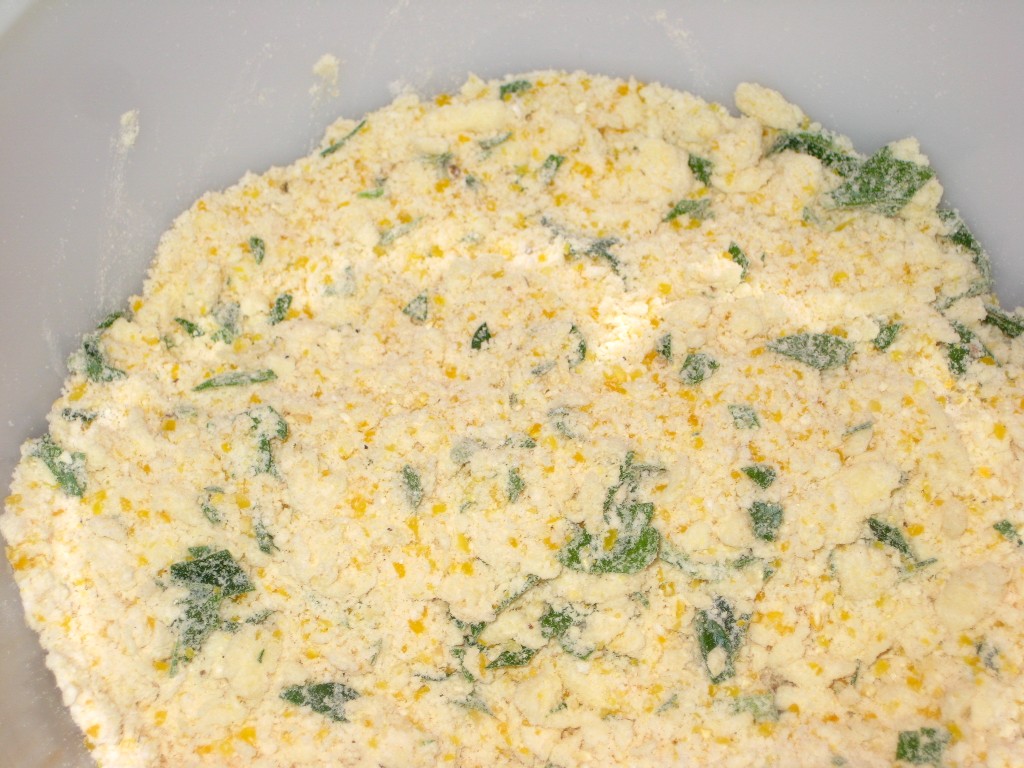 I added the diced parsley in and moistened with a bit of milk until I could form small dumplings. When the soup was about done, I spooned the dumplings into the broth and simmered until they puffed up. A relatively simple meal – but damn tasty, mostly local, and excellent for a fall evening.
Local Ingredients – Collards, carrots, potatoes (West Seattle Farmers Market). Leeks and parsley (backyard). Stock (homemade with Bay leaves from the backyard). Butter. Flour (Wheat Montana, picked up on a trip to MT). Milk (Golden Glen Creamery).
Non-local Ingredients – Turkey (Diestel farms, a good farm but from  Northern CA). Pepper. Cornmeal (unknown location)
Side Note:
My mom mentioned the other day that she had recently read one of my Dark Days posts and that it was something she hadn't thought about before. Most likely this means I am not doing a good job of preaching what I practice. (4 years in Catholic School have left me very reluctant to preach to anyone). But it did get me thinking that I've assumed all readers of this little endeavor (this blog) already know the reasoning behind a focus on local foods. While that is probably the case for a good number of you (if this pertains to you, you can stop reading here), it also may not be the case for all. There are so many talented writers out there that have covered the local foods movement in much more eloquent ways than I can here. But I want to briefly outline my reasons for trying to eat locally.
By purchasing my food locally, I know where it comes from. I can research, and in many cases visit where my food is grown and give my monetary support to farmers who are being ecologically responsible in their farming practices and working towards a sustainable agricultural system.
By purchasing my meat locally I can ensure that the animals that end up on my table didn't live brief and miserable lives in feedlots or factory farms. That they weren't pumped full of antibiotics to ward off the disease that festers in those situations. That they played in the dirt, were fed a variety of foods appropriate to their species and were raised in a manner that takes the surrounding environment into account, not creating cesspools of manure that contaminate rivers, streams and groundwater.
By supporting local farmers I know that the money I spend is going directly to support a family, not a ConAgra, Tyson, or Kraft CEO. It is going towards paying those working on family farms a living wage. It is going towards preserving an occupation and lifestyle that is given little recognition or respect, and is frequently the subject of derision. We live in a country that affords more respect to celebrities than the people who nourish us and make our isolated urbane lives possible.
My local food dollars are going towards preserving open land ,and dollar by dollar, making it possible that suburban sprawl doesn't swallow up every last available acre of surrounding land into a manicured green lawn for another mini-mansion or building block housing complex.
By supporting local farmers I am much closer to paying the real price of food. I have a greater awareness and appreciation for what I purchase and think harder about wasting food. I  can't buy a 10 pound bag of potatoes for $3 from a local farm. But I also don't let any of the potatoes I do buy go to mold and waste away. And I know that the true cost of cheap food is much much more, either in underpaid human labor, fuel costs in transportation, a scorched earth monoculture, caustic fertilizer and pesticide/herbicde use or the greenhouse gases released in bringing me peaches from Chile.
By supporting local farmers I am contributing to this region's food sovereignty. I've put my money toward ensuring that there is land left to grow crops near my town. I've made myself a little less subject to the whims of politics or nation-states when it comes to basic sustenance. If something were to happen, I know where my food comes from-and it is not the supermarket.
Eating local food connects me to where I am, makes me more aware of the changing seasons around me, makes me notice the outside world a bit more. It makes me aware of local food traditions and cycles.
And last, after all the politics, issues and moral dilemmas – eating local food tastes good! Absolutely fresh spinach, hot chiles, sweet salmon, cream top milk. The list goes on. Food that hasn't been on a trip around the world before it lands on your table, is simply amazing in your mouth.