This past weekend while at the West Seattle Farmers Market I picked up a small package of dried beans. The name of the beans was written in thick felt tip and not all that discernible, but they were the most unfamiliar of the three dried bean varieties that Full Circle had on their table. A bit of time, guesswork and creative spelling back at home finally rendered me with the answer that I had purchased Arikara beans.
I found this blurb on them at the Monticello Store website
Arikara beans, "Ricara" beans to Thomas Jefferson, were named for the Dakota Arikara tribe encountered by the Lewis and Clark expedition during their "Voyage of Discovery." These beans were among the significant horticultural "discoveries" of Lewis and Clark, and perhaps more importantly, dried Arikara beans helped feed and sustain the members of the expedition through the arduous Fort Mandan winter of 1805 when temperatures averaged four degrees. Arikara beans were likely first grown in eastern North America by Thomas Jefferson at Monticello. Jefferson said the Arikara bean "is on of the most excellent we have had: I have cultivated them plentifully for the table tow years."

Arikara beans were developed by Native Americans to produce in the remarkably short growing season of the northern plains. Jefferson referred to them as "forward" beans, because they bore so early in the season, as early as July 1 in 1809. Eastern North American gardeners need to sow seeds in sunny, fertile garden soil two weeks before the average spring frost date to avoid hot, humid temperatures. The beans can be harvested young and prepared as "snaps," or dried in the pods for stews and dried bean dishes.
Further research found that Arikara beans are designated in Slow Food USA's Ark of Taste and
because the Arikara Yellow bean does not fit the established classes for dry beans in North American, there is no ready market for the this bean and thus the bean's existence is seriously threatened.
Hey, can I pick em or what? Given the short season/suitable for northern climates description (and Full Circles obvious success in growing them) I immediately pulled about 40 of the fattest looking beans aside to give a try at planting this year. I set about half of the remaining package to soak overnight in cold water. My beans were destined for soup the following day.
I started the soup by dicing about half an onion and two strips of bacon and set them to saute in a pot. I pulled out a quart of turkey stock (leftover from the Thanksgiving Turkey carcass I carried home with me this year). Diced up a few stalks of celery (organic and purchased from a local produce stand, but of unknown provenience). We had also picked up a replenishing stock of carrots from Full Circle and I prepped several of these as well.
After the onions and bacon were ready I added the soaked beans and quart of turkey stock to the pot and simmered for about and hour and a half. I tossed in the carrots and celery and when they were just about done I added the remainder of a quart of quartered green tomatoes that had been lingering in the fridge.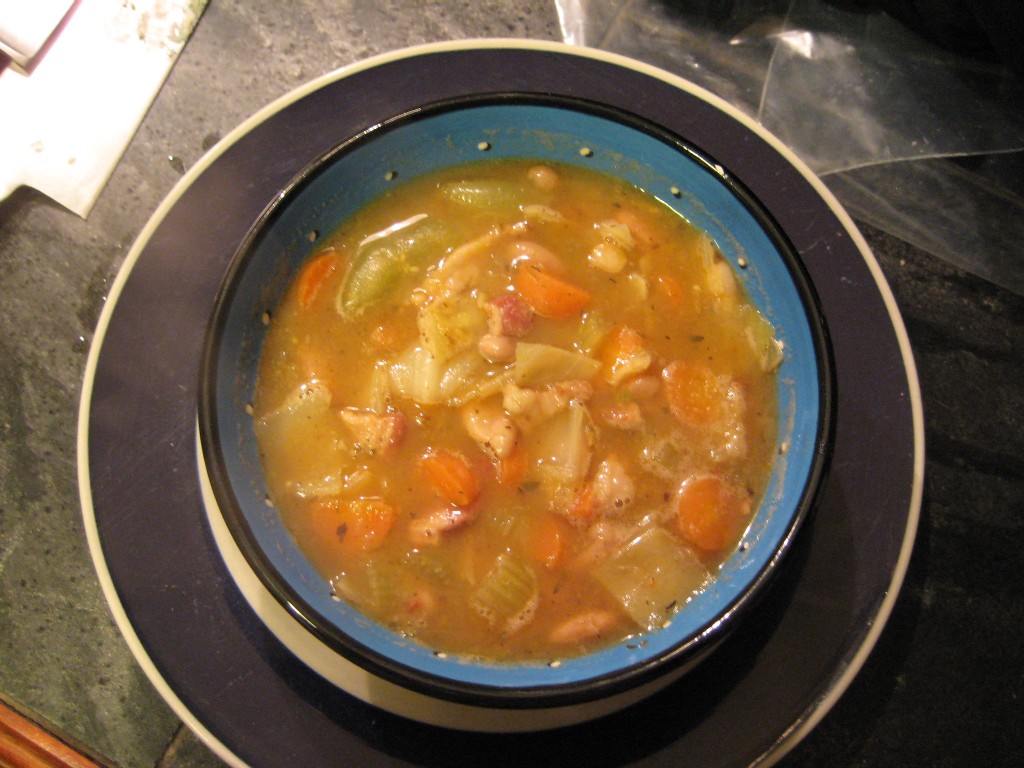 The beans were delicious. Savory and buttery and perfect winter fare, the soup wasn't too shabby either! So there ya go – I tried something new and found something new to plant!
One of the goals Laura laid out in the intro to the Dark Days challenge was to try cooking with something unfamiliar. I have actually not really done that to any extent, mainly because I think I have done a lot of experimental cooking and tasting in my life. And in our household we really don't have fussy eaters. That is unless  you count Gary's ban on tofu of any sort, hot chile, bitter greens, super stinky cheese and large tapioca pearls (something about being a supertaster, but I ain't buying it! ). Even then, these are items that I will either sneak into meals (telling him he needs his greens) or eat when cooking for myself (New Mexico green chile, yum!).
The items I haven't eaten at least once stray into the obscenely expensive/ethically questionable (foie gras, caviar) or limited seasonality/availability (fiddleheads). There are a few out there I just need to seek out (goeyduck for starters…).