Today was an absolutely beautiful day. The sun came out to play and the temp was up in the 50's. Both Gary and I were not willing to let another day like this pass without getting some quality time in the yard so we knocked off around 1pm and went out to play.
I've been itching to get at least one of the new cold frames built since I scored free wood from a dumpster at Lowes the other weekend. Today was the day and I measured and calculated to see if I truly did have enough free wood to complete it (and I did, yahoo!). So here is the product of today's efforts. We picked up two sliding glass door panels for free off CraigsList last fall. All the wood was free – so this is a 78″ by 39″ coldframe, all for the cost of a handful of deck screws.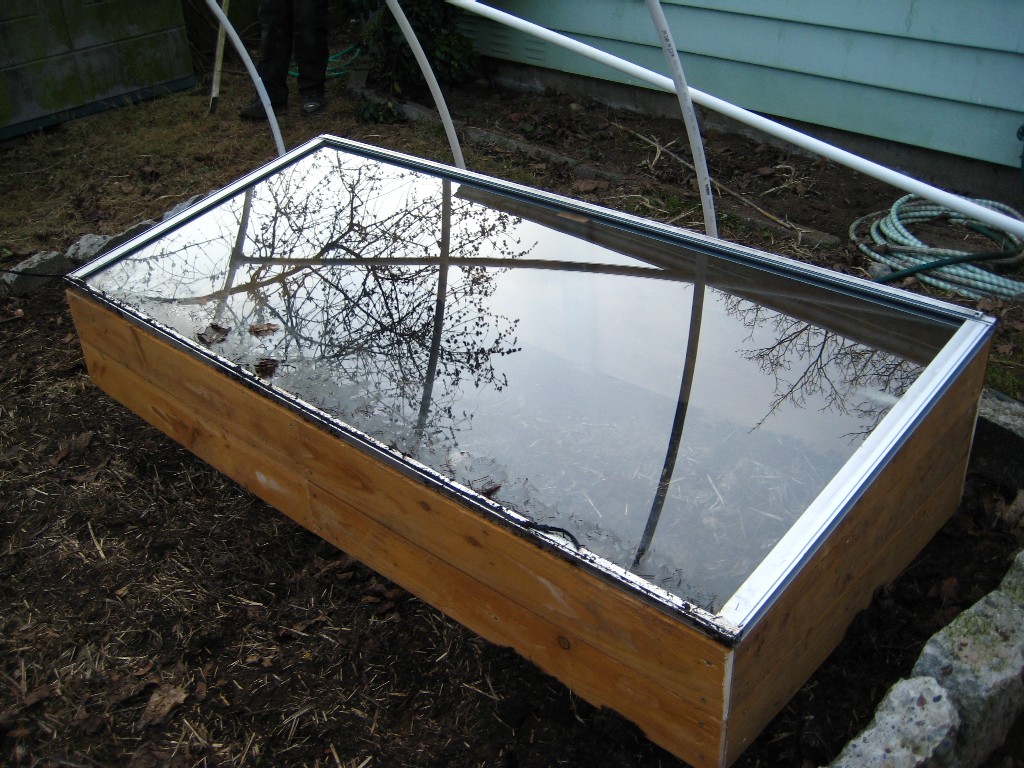 I cut and assembled the four sides separately and Gary helped me to put it all together with his nifty corner clamps holding it in place while I fastened. I occasionally make fun of him for all the newfangeled gadgets he buys for the shop, but they come in handy!
The cold frame is now living in the new bed we built last summer. Eventually this bed will be a hoop house again and house peppers for the coming summer. But it usually doesn't even get warm enough for putting tomatoes and peppers out until May around here, so in the interim I plan to get a good harvest of cold hardy greens going. I should get a harvest of lettuce, bok choi, mache and radishes before I have to move the cold frames and put the plastic back up.
I cleared the bed of its winter blanket of maple leaves yesterday. Hopefully the newfound sun and the addition of the cold frame in part of it will start warming the soil a bit. I've started some seeds inside already (details next post) and if the weather stays – I'll direct seed some radish in the next day or two.
Puttering in the yard this afternoon, each of us pursuing our own little projects – it almost felt like summer was already here. I'm hoping today was a harbinger of the coming season.